As the sun set on the Satilla Shores neighborhood Tuesday, hundreds of people gathered to complete the run that Ahmaud Arbery did not finish a year ago.
On the anniversary of the shooting death of Arbery, a candlelight vigil honored his memory and reemphasized the call for justice that has echoed through Glynn County and around the nation the past year.
On Feb. 23, 2020, Arbery was jogging through the quiet neighborhood on a Sunday afternoon when he was noticed by Greg McMichael and his adult son Travis. The two men, thinking Arbery might be involved in criminal activity, got into their pickup truck, guns in hand, and pursued Arbery, who was on foot.
At the corner of Satilla Drive and Holmes Road, the chase ended when Travis McMichael exited the truck, confronted Arbery and shot him three times at close range with a 12-gauge shotgun. Arbery died on the scene.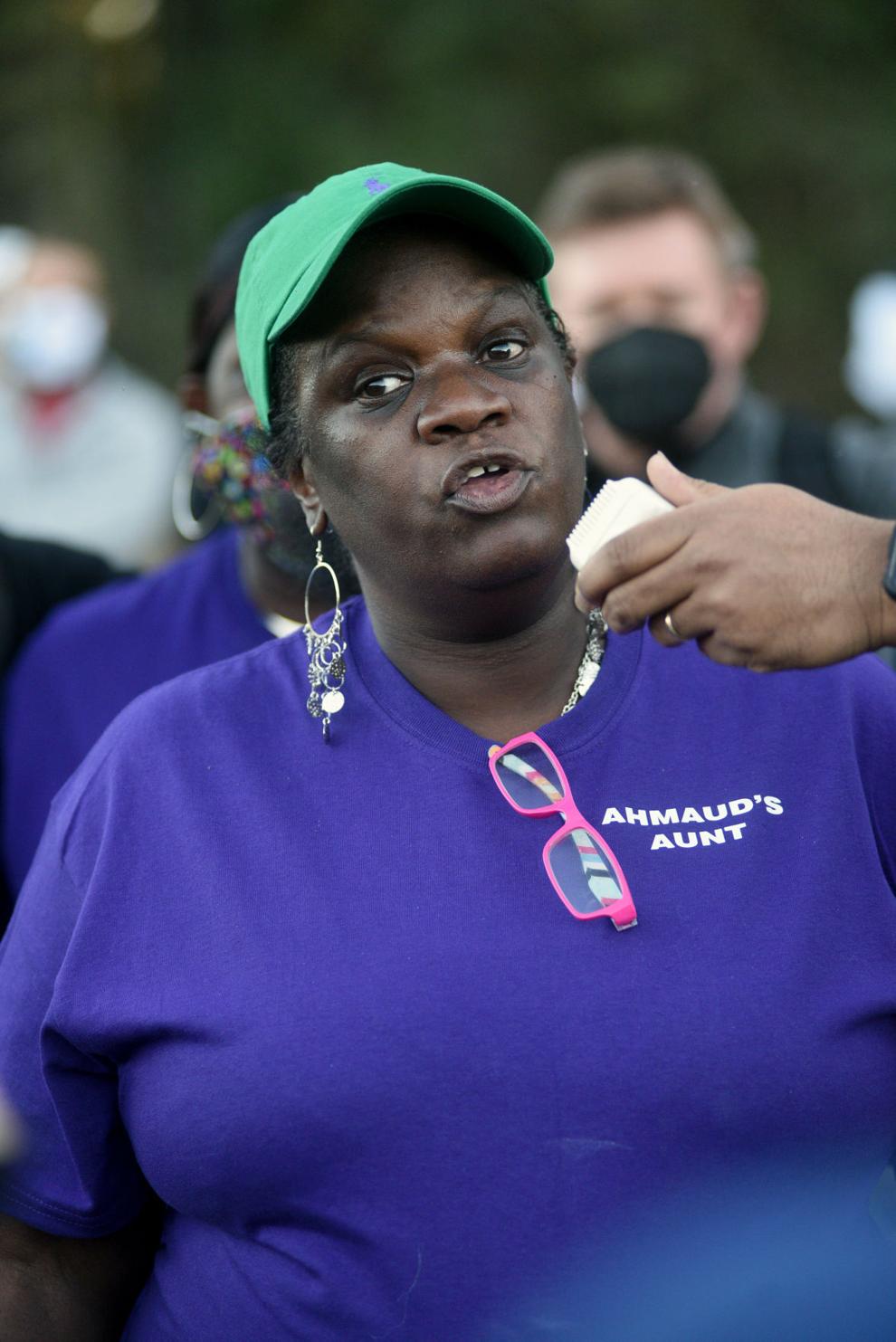 Months later, video of the deadly confrontation sparked international anger and calls for justice.
Arbery, a Black man, was 25 years old when he died. Greg and Travis McMichael, both White, were later arrested along with William "Roddie" Bryan, who participated in the chase and recorded on his cell phone a video of the encounter.
During the vigil, walkers paused at the same intersection and lifted their electric candles.
"We want to let the Arbery family know that we are here for them," said Jason Vaughn, Arbery's football coach in high school. "Everybody hold those candles up … We are going to be a light to this community. Maud can no longer give us that smile. He can no longer give us that laughter. So we are going to carry the light for Maud. We are going to finish the run."
Vaughn co-founded the 2.23 Foundation, which organized the vigil. The group continues to seek justice for Arbery and to educate a new generation on how to effectively seek social justice.
Feb. 23 is a date that will be forever infamous in the minds of Glynn County residents, said Samantha Gilder, executive assistant for the foundation.
"This day means so much to this community," she said. "Feb. 23 will mean something to everyone in this community. In one way or another, everyone has been affected by this."
The walk began at the neighborhood's entrance, where participants met in a grassy area just off U.S. 17. With Arbery's family members leading the way, the crowd walked down moss-draped streets as the sun sank and bathed Satilla Shores in gold.
The group paused at the site where Arbery was shot. Standing over the spot, Arbery's father, aunts and other relatives shared memories of his kind nature and big smile. They also thanked those who attended the vigil and who have been a part of the fight for justice.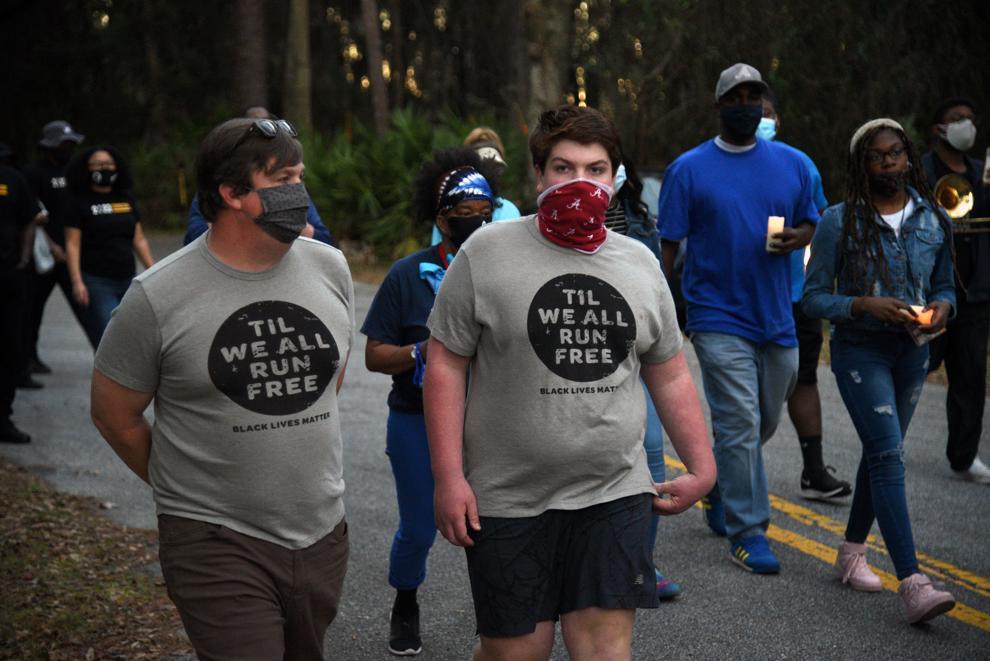 That fight is the reason Ke'Ana Dixon, a Brunswick resident, attended the walk. She said she wanted to support Arbery's family.
"Justice still hasn't been served," Dixon said. "We're showing our support in being here and we're hoping it makes a difference."
Many brought their children to the vigil. Kaitlin Carpenter, who grew up in Glynn County, wanted her three young children to learn the importance of compassion over hate.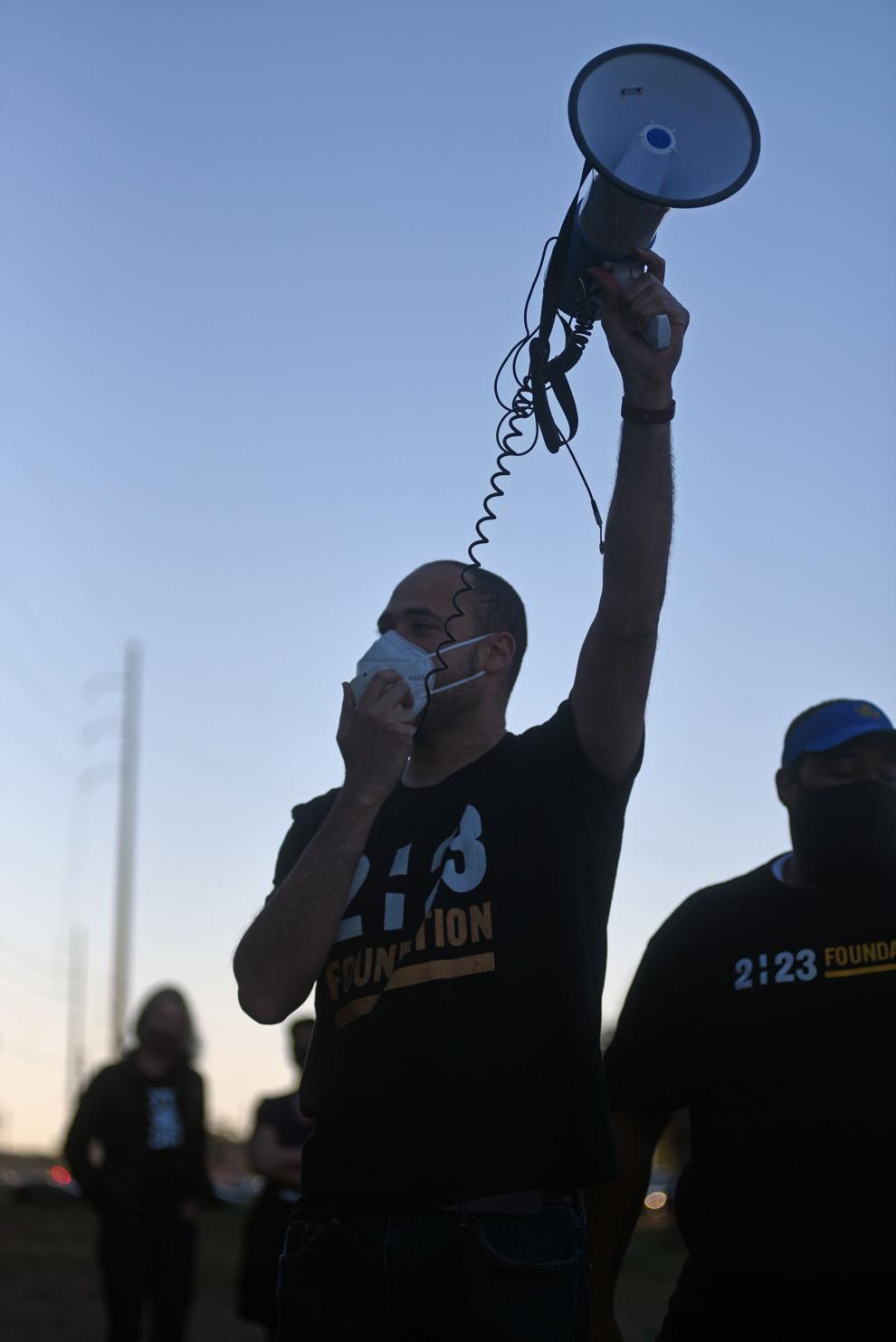 "We just wanted to come out and bring the kids and let them see what justice looks like in action," Carpenter said.
As the crowd held their candles up high, Vaughn encouraged Arbery's family to take note of how many continue to support them.
"I want you to look around at all these candles and all these people supporting your family," he said. "We are a community of love, and hate does not belong in Brunswick, Glynn County, Georgia, the United States of America or this world."
Gilder could think of no place more fitting to mark the day Arbery was killed.
"We knew we had to come to this neighborhood," she said. "We knew we had to, especially with our goal for today being to finish the run that Ahmaud set out to take on Feb. 23, 2020. We had to come back to this place to finish the run."