At least 300 boats sailed from Brunswick to Jekyll Island and St. Simons Saturday in the TrumPalooza, a rally to support the president's re-election that included a parade of thundering motorcycles and thousands watching from the roadsides and shore.
Dana Haza, who organized the event with Glynn Buffkin, said she was "absolutely pleased with the turnout."
She called it a great day for Trump and the county.
It got off to a late start from Liberty Park because the boats just wouldn't stop coming. At the 10 a.m. starting time, more than 200 boats were in position at the Sidney Lanier Bridge as others were still rounding the bend in the Brunswick River from the east. Some boaters simply idled and waited to join the flotilla as it passed.
People lined the waterfront under the bridge at Liberty Park and crowded onto the fishing pier that was once part of the old Sidney Lanier Bridge. They brought their dogs, their "Keep America Great" caps and waved American, Trump and blue line flags as they watched the boats assemble on both sides of the bridge.
Many wore red shirts. The better than 100 motorcyclists came in their usual black riding gear, but they used flags and other means to show they support Trump.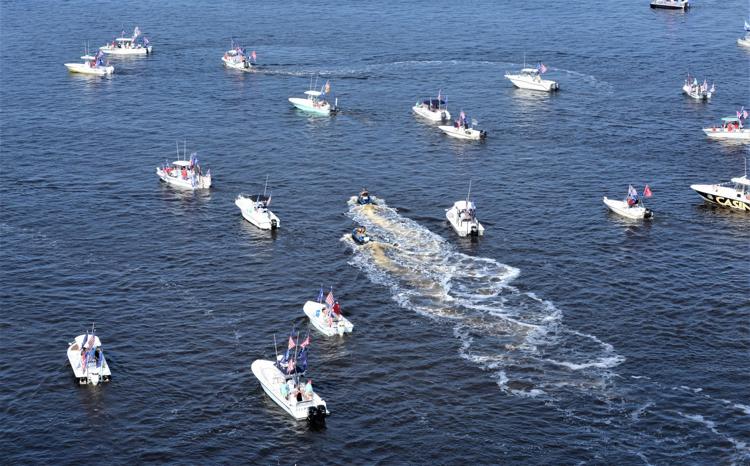 Robbie and Michelle Morris came from Brantley County.
"I'm supporting Trump,'' Robbie Morris said. "We've got to get him back in. He kept the economy going."
Norris Mikolajczyk, an Army retiree, is a VFW rider from St. Marys.
"Before the pandemic, I was enjoying my paychecks. I was enjoying not worrying about anything," and he's still working, he said.
He said Trump's opponents have things wrong.
"They're putting out the wrong message. They're stating things that aren't true,'' he said. "I feel if they get in, they will be true."
Cindy Naughton said her biggest issue is immigration and that Trump is on the right track.
"My grandparents immigrated and they had to go through all the hoops,'' including not asking the government for any help for years, Naughton said.
Today people get assistance as soon as they set foot in the country.
"My grandfather was Joe Bruno. My grandmother was a Soprano,'' she said of her grandparents' Sicilian roots.
She marveled as she watched from the old bridge as the boats continued to arrive.
"I hope they do that at the voting booth,'' she said.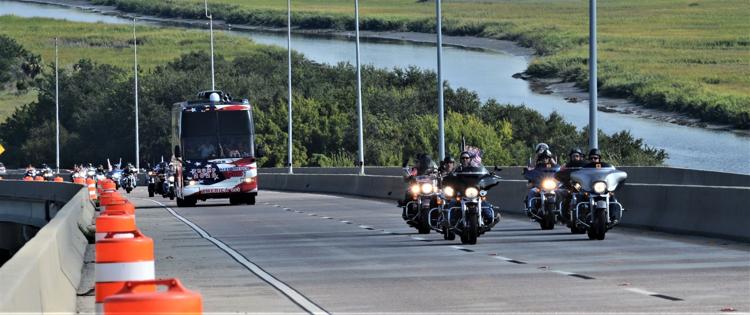 Mayor Cornell Harvey welcomed the crowd, and urged them, "While you're here, make sure you let somebody know you care… This is what America is all about."
Earlier, Harvey said he was there to welcome people. The gathering was a good thing, he said, and he hoped that the people returned to enjoy Brunswick and Liberty Park.
The crowd that had been chattering and waving flags fell silent as Tony Adams sang the "Star Spangled Banner." Men put their "Trump" and "Keep America Great" flags over their hearts and if anyone took a knee, it was in secret. As soon as Adams hit the last note, the crowd cheered and applauded, boat horns and a train horn sounded and the motorcycles thundered to life.
Many of the boats headed toward the channel to join the flotilla as it passed under the center of the bridge as the motorcyclists, at least 100 of them, followed a Trump campaign bus out of Liberty Park across the Sidney Lanier Bridge toward Jekyll Island.
Salik Abdullah, an English teacher in DeKalb County, watched and videotaped it from the top of the bridge. He had not heard of the TrumPalooza until it unfolded beneath him.
"That's a lot of boats. They've all got the flag so I'd have been fooled if they weren't" Trump supporters, he said.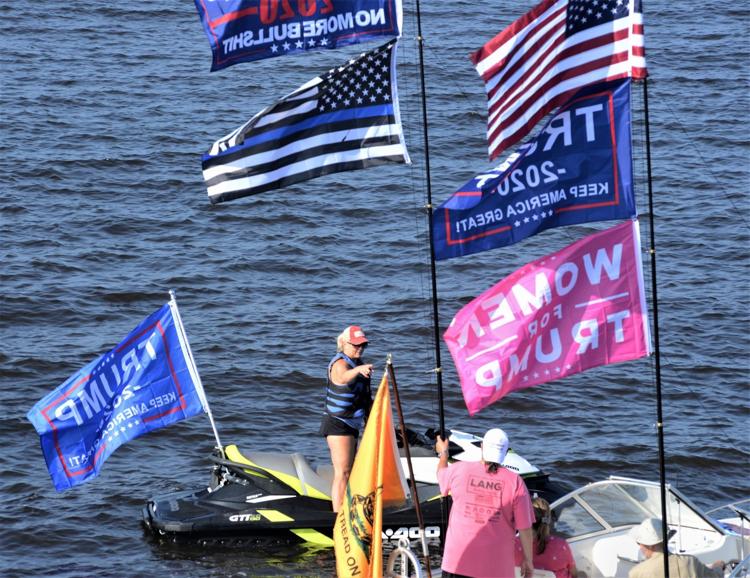 Asked about the looting and burning in American cities, Abdullah said he believes that's being funded by some families — he couldn't say who — that want to bring down the country.
"Some powerful people probably want this thing to tip over,'' he said of the country. "It may already have."
When the boats crossed the sound from Jekyll Island there were hundreds more people on the St. Simons pier and along the shore at Neptune Park waving flags and yelling. As the boats were parading past, the train horn sounded again as the parade of motorcycles rumbled through the pier village area.
Vickie Ream and Arnold Montez were among those on the pier. Ream joked she was there "to see all the pretty" boats but her blue Trump flag said otherwise.
Arnold Montez waved an American flag, marveled at the number of boats and said, "Not a fishing pole on any of them."
Karen Hunter brought her children to watch from the pier. They moved to St. Simons from Eugene, Oregon, a year ago and her 12-year-old son, Jackson, begged her to come, she said.
"They love their country,'' she said of her children.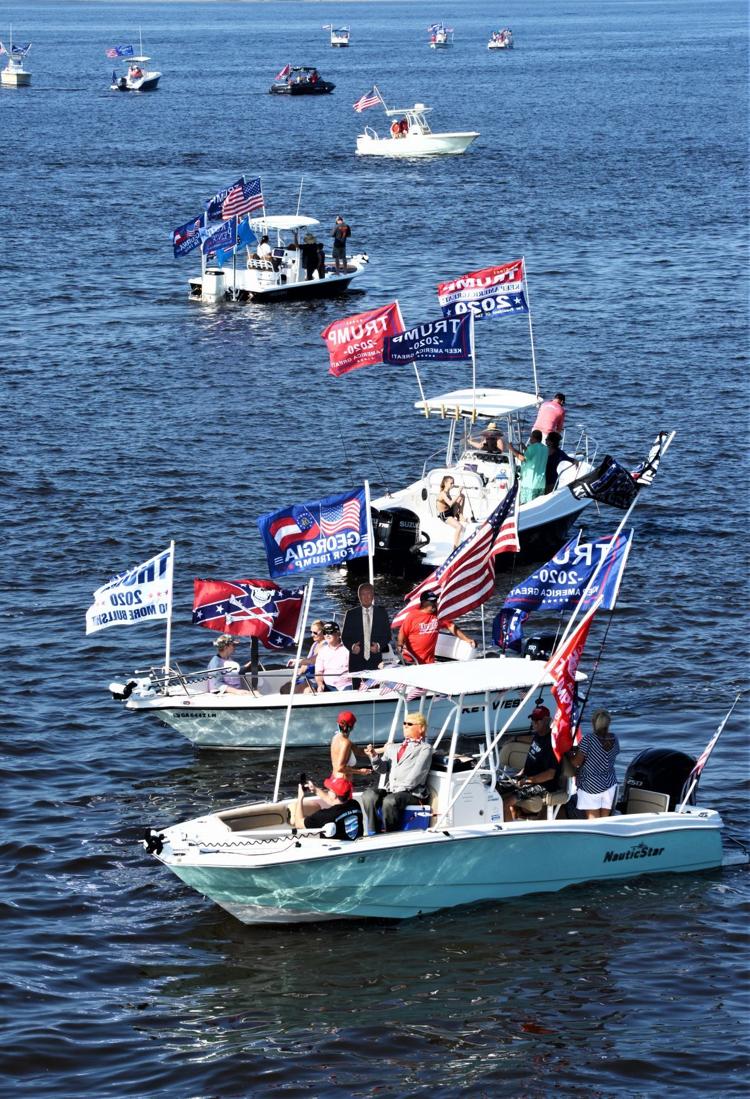 Her 14-year-old daughter Madeline said unabashedly she wanted Trump to win.
Hunter remarked the atmosphere is far different in coastal Georgia than that of Oregon.
"You couldn't do something like this in Oregon'' lest protesters shut it down, she said. "Here you can be a Christian, you can be for Trump and nobody tells you otherwise."
Haza said the bands were still playing into the afternoon at Liberty Park and people were still coming, but, as expected, the boaters appeared to have headed back to the docks.
She thanked Sheriff Neal Jump for helping make it a safe event and the Golden Isles Patriots motorcycle club and the Glynn County GOP for making the event successful.
"Everyone seemed to enjoy it,'' on land and sea, she said. "I had people sending me pictures from the boats."
"Everybody had a chance to participate,'' and obviously many did, she said.