To the casual observer, the ball at the top of the 104-foot-tall St. Simons Island lighthouse appears ornamental, but it once vented a kerosene lamp.
After 149 years, aged and weathered, the vent required the skills of some specially skilled repairmen.
Anthony Presutti and John Xipolitus of Razorback LLC climbed atop the copper dome above the lightroom Wednesday night, removing the vent ball and carrying it down the steps of the lighthouse where it waited overnight for repairs by metalsmith Alex Klahm.
Mimi Rogers, curator of the lighthouse and museum for the Coastal Georgia Historic Society, said the vent ball has done its job for years.
"The way the chimney was constructed, it kept the rain from getting into the lamp room,'' she said.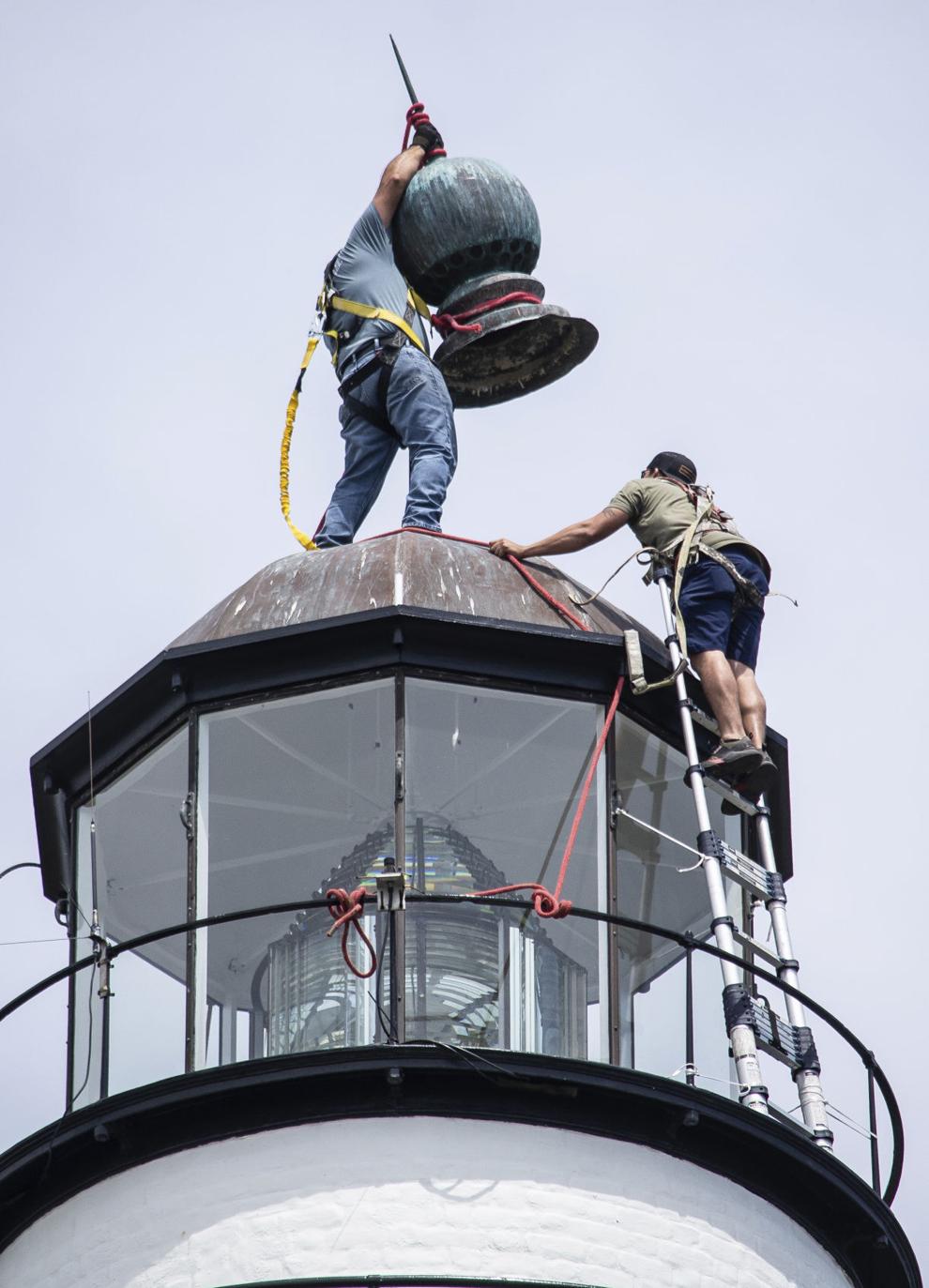 Rain has been blowing inside little by little, corroding a foot-long horizontal hole inside the cylindrical chimney. The chimney formerly vented hot gases from the lamp that lit the Fresnel lens. Gases drawn up through the chimney were vented to the outside through about 40 metal holes at the bottom of the ball.
Eventually the hole got big enough to let rain leak down inside the lamp room where a powerful electric lamp now sends a rotating beam out to sea.
Working in a very tight space, Krahm cut a piece of sheet copper, soldered it over the hole and put a layer of sealant over the solder in case there were pinholes, he said.
He also repaired the copper screen that covers the holes where small birds had gotten inside the lamp room. Repairs took about three hours.
The Coastal Georgia Historical Society, owner-operator of the lighthouse and keepers cottage, halted tours for just over an hour while Presutti and Xipolitus lugged the ball back up the winding interior stairs and hoisted it back on top of the dome Thursday. It was the third lighthouse of the week for the trio who work out of Tarpon Springs, Fla. Before St. Simons they worked on maintenance at lighthouses at St. George and Amelia Island.
"I've worked on 37 of them. I kind of know them,'' Krahm said.