What began as an approved proposal in 2018 has grown and developed since then into a multi-faceted, detailed plan to create a community resource center in Brunswick that will neighbor the homes of some of the city's lowest-income residents.
The project, branded now as "Rise Risley," took significant steps forward in 2019. Progress updates have been provided at quarterly meetings, the attendance for which has steadily grown as more community members come onboard to support this vision.
Coastal Georgia Community Action Authority kicked off this project in the summer of 2018 by submitting an application to the Georgia Division of Family and Children, which granted the proposal State of Hope Supported Site approval and a funding award of $125,000. Working with local partners, Coastal Georgia Community Action Authority proposed in its application a community resource center that will bring together resources to serve families in need.
The resource center will be located on the historic Risley campus on Albany Street in Brunswick. Community Action Authority officially acquired the property from the Glynn County Board of Education this year.
"While in Glynn County as a whole, which includes Sea Island and St. Simons and Jekyll, 30 percent of our children live in poverty — in that particular track 78 percent of the children live in poverty," said Melinda Ennis-Roughton, executive director of Family Connection Glynn County, at a meeting in March "… That is the high poverty area of Glynn County."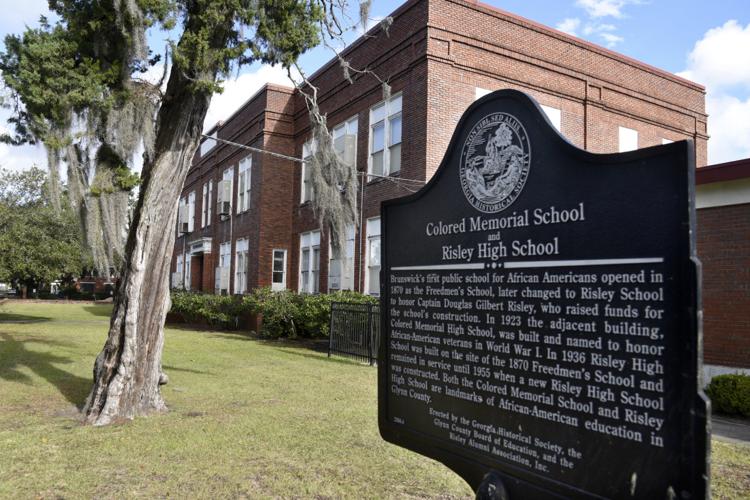 The idea is to bring together the many support services and programs offered by nonprofits and other groups in Brunswick. The center will make these programs more accessible to the families who need support.
"We knew that being here would be the perfect place for all of us to be able to wrap ourselves around those families that we work with and give them a continuity of care," said Tres Hamilton, CEO of Community Action Authority, at a meeting in September.
Subcommittees are tackling various parts of the project by focusing on each area of service. Those service areas include education, increased economic sustainability, trauma-informed care and an incorporation of arts programming.
The center will offer early education programs, GED classes and other continued learning opportunities, an onsite garden and café and satellite offices for local nonprofits and other programs. Incorporated into all services on the campus will be arts programming and trauma-informed care.
The Rise Risley team has also worked this year to seek out input from the residents who will use this center.
"As nonprofits, we're notorious — our hearts are in the right place — but we're notorious for telling everybody what it is that they need," said Hamilton, at a meeting in March. "And oftentimes, more times than not, we are off center when we do that."
The project has also focused on its branding this year, officially naming itself "Rise Risley" and unveiling the logo for the initiative.
And as work has continued behind the scenes, the project generated buzz this year by bringing local artists on board to create murals around downtown Brunswick. The arts subcommittee aimed to create six new murals in downtown this year and achieved that mission.
Wings have blossomed on the side of the Subway downtown, and a brightly colored call for love now overlooks the space behind Indigo Coastal Shanty.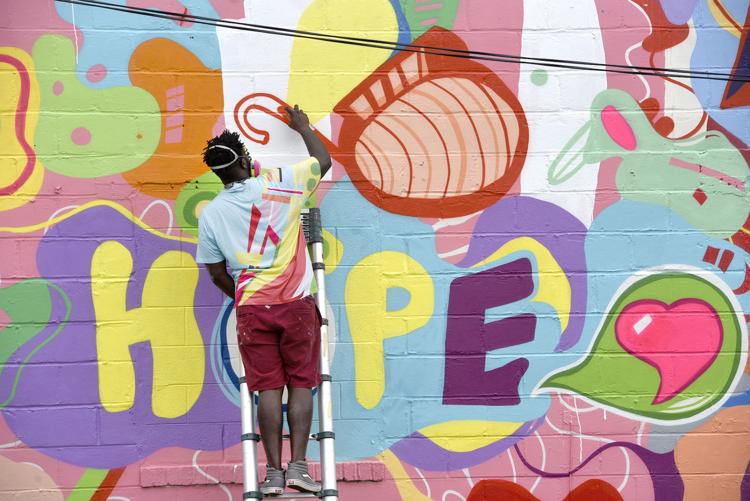 "It enriches the community, by not just adding color but adding a positive message," said Kevin Bongang, who painted the mural at Indigo Coastal Shanty. "In all my murals, I always try to have text of some form, like a specific inspiring message or a word that kind of gets you going."
At the final meeting of the year, the Rise Risley project's leaders emphasized the need to continue building momentum as the initiative moves forward.
The historic Risley campus will require renovations in every building before the resource center can open. Money will also have to be raised — either through donations, grants or other sources — to complete the renovation work.
The project plans to start 2020 strong with a "Day of Caring" on the campus, scheduled for Jan. 18, 2020. Community members are invited to come out that day and help clean up the Risley buildings.
The Rise Risley project made significant headway in 2019, despite the wide reach of its mission. And its ultimate goal is as optimistic as it is powerful — to change the lives of Glynn County's families in the years to come.
"Particularly in the nonprofit world, we all know that we all have areas of expertise," Hamilton said. "No one organization can do everything, and so in order for us to fully support our families and our children and give them what it is that they need, we all need to come together as one in order to do so."