Folks lined both sides of U.S. Highway 17 in southern Glynn County late Tuesday afternoon, standing outside parked vehicles that created a gauntlet along the busy thoroughfare.
"Let's get going!" cried Thea Brooks. "Let's run for Maud!"
And then hundreds of demonstrators began filing into the sleepy marsh-side suburban neighborhood of Satilla Shores, sending a reminder not to forget how the peace was shattered here Feb. 23 with the Sunday afternoon shooting death of Ahmaud Arbery.
Arbery died in the street at Satilla Drive and Buford Road following a confrontation with an armed father and son, who told police they suspected the 25-year-old Brunswick man of burglary. A former standout football player at Brunswick High and an avid runner, Arbery was wearing a T-shirt, shorts and running shoes at the time.
"We're going to be here and we're going to be heard," said Tasha McQueen, who was joined by her husband, Shawn.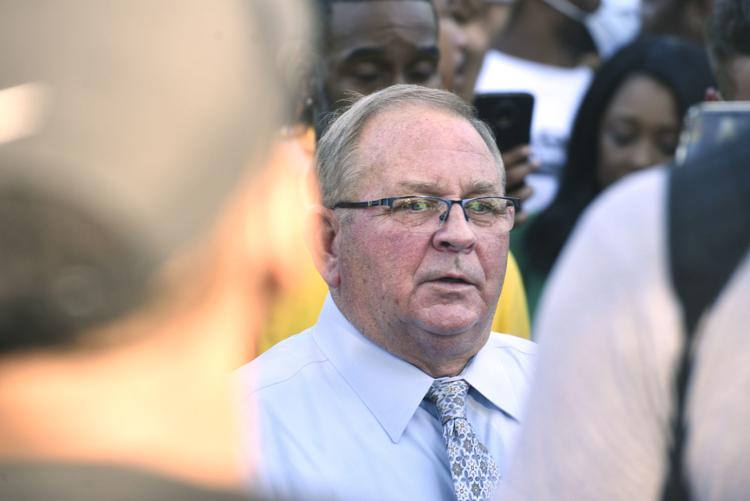 McQueen's sons, Rafael and Akeem Baker, grew up playing sports with Arbery, she said. "It's ridiculous that this young man is gone and these two are sitting around having dinner right now. We understand that the people who live in this neighborhood didn't do this. So we don't want to be disrespectful to them. But we've got to be heard."
In fact, some residents joined the march. Nancy and Ann (both declined to give last names) filed in with the marchers at Zellwood Drive. Nancy said she often saw Arbery jogging through the neighborhood. She just wanted to show her support.
"It's my neighborhood," Nancy said. "I had seen him jogging. It scares me that something was this reckless. I know the McMichaels, but this just wasn't right."
The procession strolled down Satilla Drive to Buford Road, where the shooting occurred. Among the many placards displayed, one read, "You Can't Call A Hate Crime Self Defense." Some shouted, "Justice for Ahmaud!" and, "We Don't Run From Guns, We Run For Fun!" Many, filled with rage over the shooting, peppered their protests with loud expletives.
But the crowd was peaceful and included families, teens, young and old, black and white. Some reached out to Satilla Shores' residents.
"Get to know us," said Kevin "Kevlo" Smith, a local rapper and certified nursing assistant. "We are not the people that want to hurt y'all. We want to give love."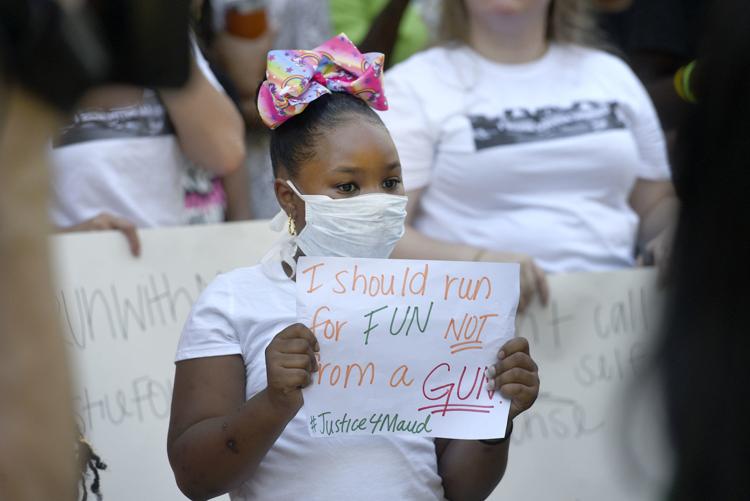 A young man wearing a camouflage cap sat with a young woman in a All Terrain Vehicle, listening to the protesters, nodding their heads occasionally.
"Love us, brother," said Travis "Slim" Riddle, an Atlanta area rapper and Brunswick native. "I've got a lot of support from a lot of white people. If they're tired of it, you know we're tired of it."
The crowd proceeded back down Satilla Drive, stopping outside the home of Travis McMichael. Sheriff Neal Jump stood in the home's yard to keep the peace. "I am out here for you," Jump said. "The constitution says that you have the right to congregate."
Arbery worked in landscaping with his father and in construction with an uncle, said Kimberly Cumming. The Townsend resident described Arbery as her favorite nephew.
"We're here for justice, and for peace for his momma and daddy," she said.
April Hutchinson and husband Benji have sons attending Glynn Academy, active in football and other sports. They came out from their home on Emanuel Church Road to honor Arbery's memory, she said.
"To see something like this, it's travesty," Hutchinson said. "It's heart-breaking. I just hope justice is served and didn't die in vain."