Joey Williams makes sure his products are color appropriate.
"We have Georgia colors, Gator colors, Seminole colors,'' he told a potential customer Saturday morning beside U.S. 17.
He was selling items in demand in a red state, Trump flags, bumper stickers, campaign badges and signs. He had some pink badges for "Women for Trump," and the one item most identified with the 2016 and the 2020 campaign, the Trump caps, especially the now iconic red.
He sells off folding tables and the tailgate of his pickup truck.
"No matter where I set up,'' said Williams, who lives a few miles south of Valdosta, "whether it's north Florida or Southeast Georgia, business is always great.''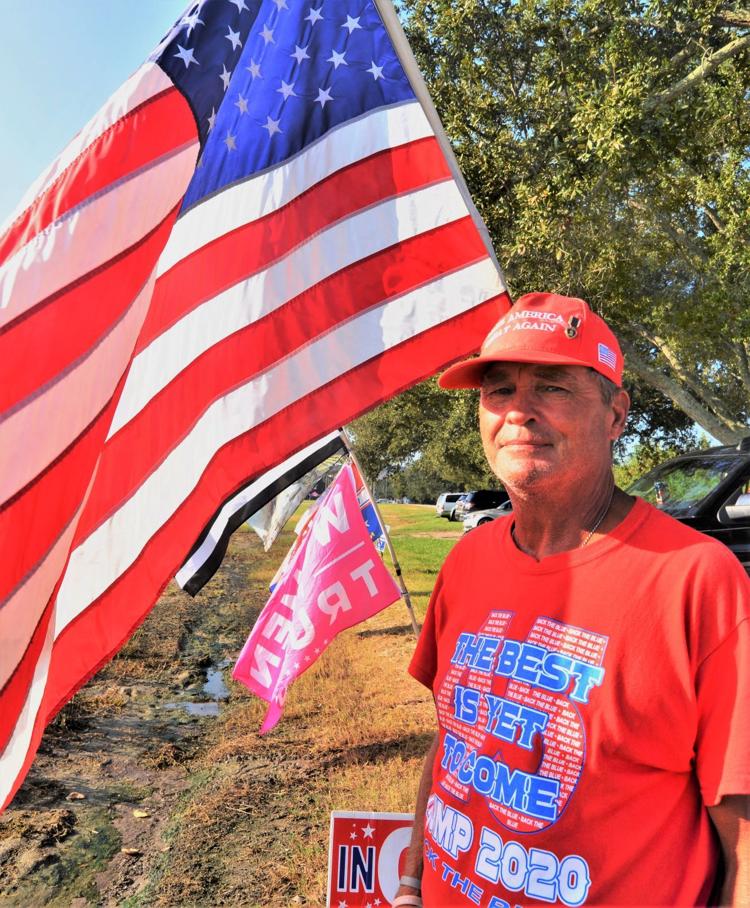 At the entrance to Liberty Park beneath the Sidney Lanier Bridge, the staging area for Saturday's TrumPalooza flotilla and motorcycle parade from Brunswick to Jekyll Island and St. Simons, he had plenty of eager customers. But Williams has a motive beyond profit.
"Today, I'll pass 3,800 yard signs I've given out for free,'' he said.
He asserted he has plowed $10,000 in proceeds from his pro-Trump wares into pro-Trump signs.
"I've got signs in over 30 states,'' he said.
As he spoke, a police officer stopped to make a purchase.
"Since y'all support me, I'm supporting y'all,'' the officer said.
Indeed, in addition to Trump and American flags, some people at the rally flew American flags with the blue line stripes to support law enforcement.
The Army veteran who got a Purple Heart during a tour in Afghanistan was joined by Jim Fleshman, a friend from the Army. He also made sure his sales tables had American flags flying with the others.
When he hands out his signs, Williams always tells people to try to make them theft proof.
"In 2016, I think Trump had more signs stolen than Hillary had printed,'' Williams said.
He urges people that once the signs are erected to coat the edges with Vaseline or some other slick substance. "When they grab them in the night to pull them up, they won't know what they're grabbing, and they'll let them go,'' he said.
He also spent a lot of time waving toward the road responding to people honking in approval of his Trump flags.
Some things have changed since the first campaign. Formerly the caps were all red, but now they come in several colors and the slogan has changed from "Make America Great Again" to "Keep America Great." Some wear the old slogans, however, saying that since the coronavirus, Trump is needed to make America great a second time.