It must be true, that old adage about bicycles.
"I haven't ridden a bicycle in 20 years," Brunswick City Manager Regina McDuffie said.
She gave the Brunswick Police patrol bicycle a curious look Wednesday morning, affixing a helmet on her head. Then she carefully gripped the handlebars and cautiously slid onto the bicycle's seat outside of police headquarters at 206 Mansfield St.
Some eight miles later and after a thorough tour of the city's people, homes, parks and roadways, McDuffie still had the energy to pull a few paces ahead of Brunswick Police Chief Kevin Jones and Capt. Wan Thorpe on the home stretch.
"You can't say I can't hang," McDuffie said cheerfully as she pedaled past the two veteran police officers. "I guess it's true — you never forget how to ride a bike."
An avid cyclist, Jones was just glad to share with McDuffie his favorite view of Brunswick and the folks who inhabit the city. When the demands of his office allow it, Jones still loves to don the police-issue bicycle uniform's blue shorts and take a friendly patrol of the streets of Brunswick.
A former member of the bicycle patrol, Capt. Thorpe joined them.
"I've been asking her to go out on the bikes for months," Jones said. "She finally said yes."
She finally had time, the busy city manager noted.
"I've been wanting to do this with the chief," she said. "I asked him if we could go soon because I'm new to the area and it's a good way to get out and learn about the community."
So the trio pedaled south from police headquarters down Grant Street, the mild temperatures and picture-perfect skies lending a festive atmosphere to the outing's onset.
But this was business as well as pleasure, particularly with McDuffie. Coming up on Prince and Grant streets, McDuffie frowned on an open field strewn with trash.
"Oh, man, they need to clean up here," McDuffie said, making a mental note to address the mess. "What the heck."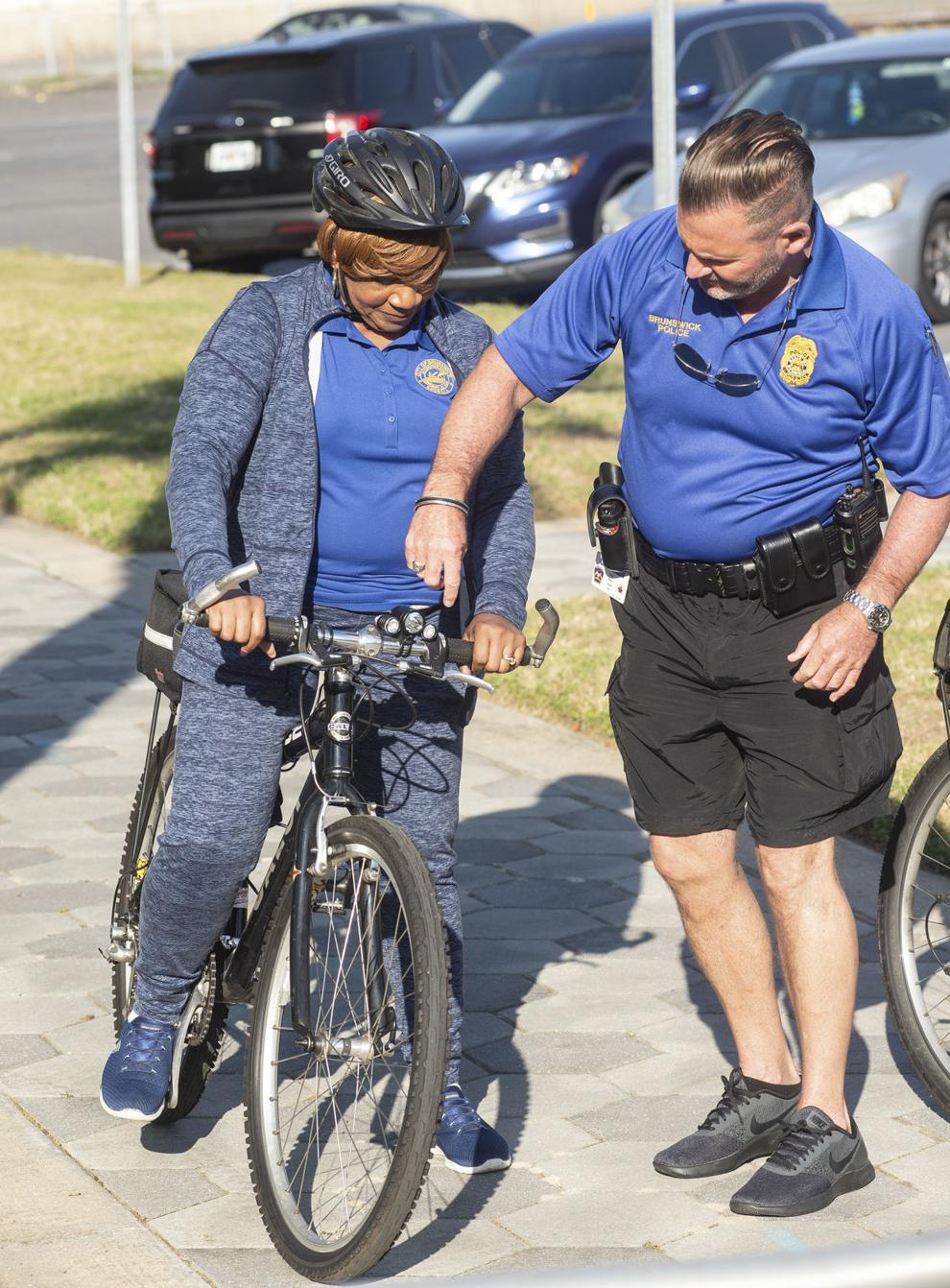 Later, at Union and Albermarle streets, McDuffie looked on smiling as Jones talked with the owner of a century-old home. The man was working on the foundation of the raised wooden structure.
"It's close to 100 years old," the man told Jones.
"I've got a 101-year-old home down at Lake George in Florida," Jones said.
"It's that old heart of pine that keeps them going," the man said.
McDuffie looked on and marveled.
"These old town Brunswick homes, I just love them, and the folks who put the work into them," she said. "These old homes really have character."
Around Amherst and Albermarle streets, she doted over the majestic oaks and their low-hanging moss-clad branches. "I love the way the oaks drape over," she said. "It's one of the best features of the city."
At Albermarle and Johnston streets, Thorpe took a shine to a home with spacious front porches facing the road — upstairs and downstairs. "I really like these homes with big porches," he said.
Nodding in agreement, the obvious dawned on McDuffie.
"You see things on a bike you might miss in a car," she said.
McDuffie takes a keen interest in the city's many parks and their proximity to neighborhoods. She took particular note Wednesday of Inez Williams Park at Prince Street, Howard Coffin Park near the Windsor Park neighborhood and Palmetto Park between Ellis and Reynolds streets.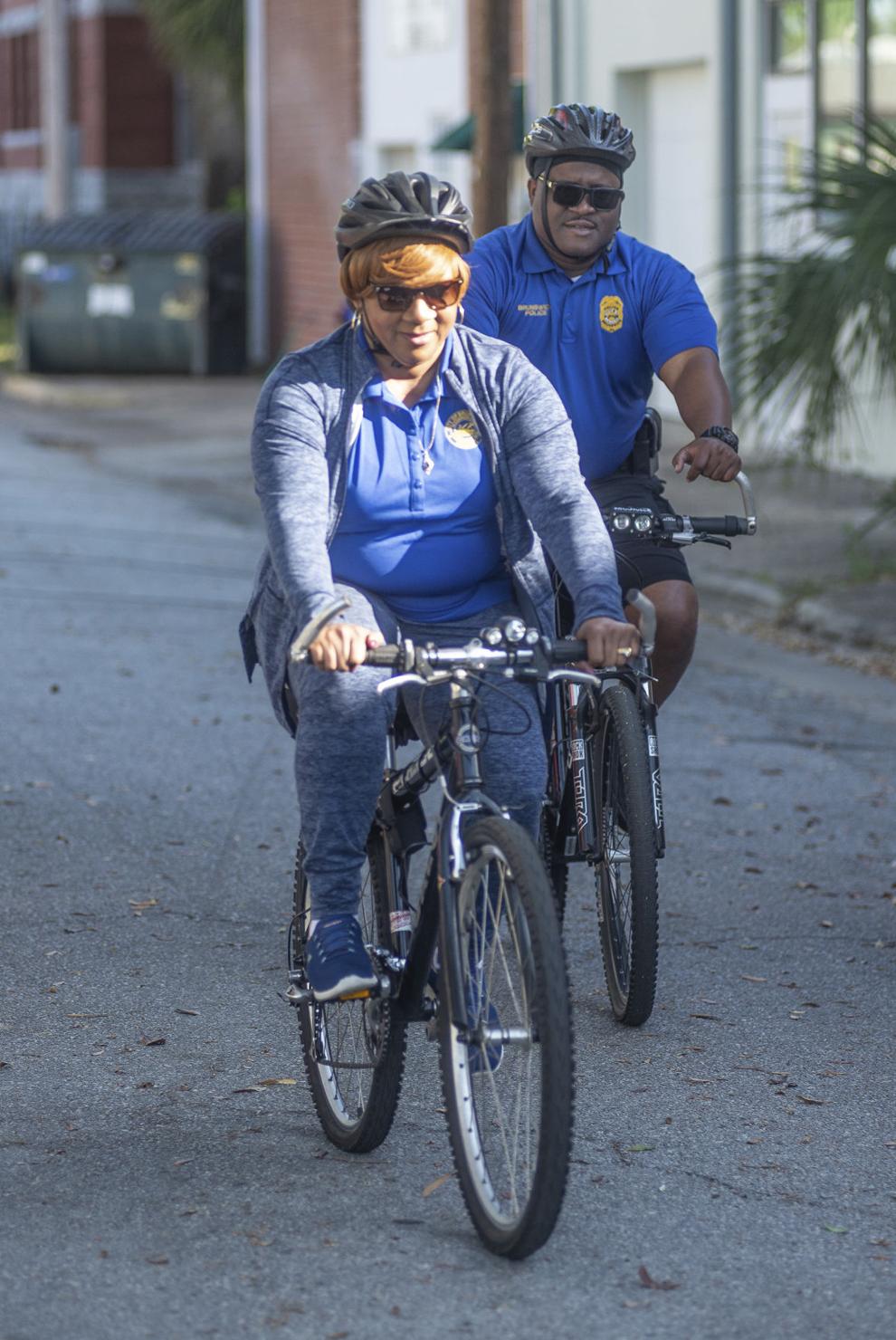 "They're going to put a playground in here," she said as the trio passed Palmetto Park. "You see the homes and the proximity of the parks? That's what I want. I love green space. I love open spaces."
Then they rolled up to a noble old home on London Street, where Juliette Quoqui was all too happy to greet them.
"So is this going to be a new thing?" she said. "I like it."
Jones introduced Quoqui to McDuffie.
"You're the new city manager of my town?" Quoqui asked. "I'm honored you stopped to say hello. I'm glad to meet you."
A New York native, Quoqui explained that she moved back home to reconnect with her Southern family roots a couple of years ago. The home has been in the family for more than 100 years, she said. Her African American roots go back 300 years in the Golden Isles, she said.
Jones remembered Quoqui's mother. "I believe your mother had the house painted pink. It was pretty," Jones said.
A dozen or more such encounters took place before the two-hour bicycle tour came full circle back to police headquarters. They chatted with a young woman who walked a mastiff named Sunday on Palmetto Avenue.
McDuffie implored a man on the front porch of his Ellis Street home to call Waste Management about the garbage at the empty home next door. His response: "Yes, ma'am."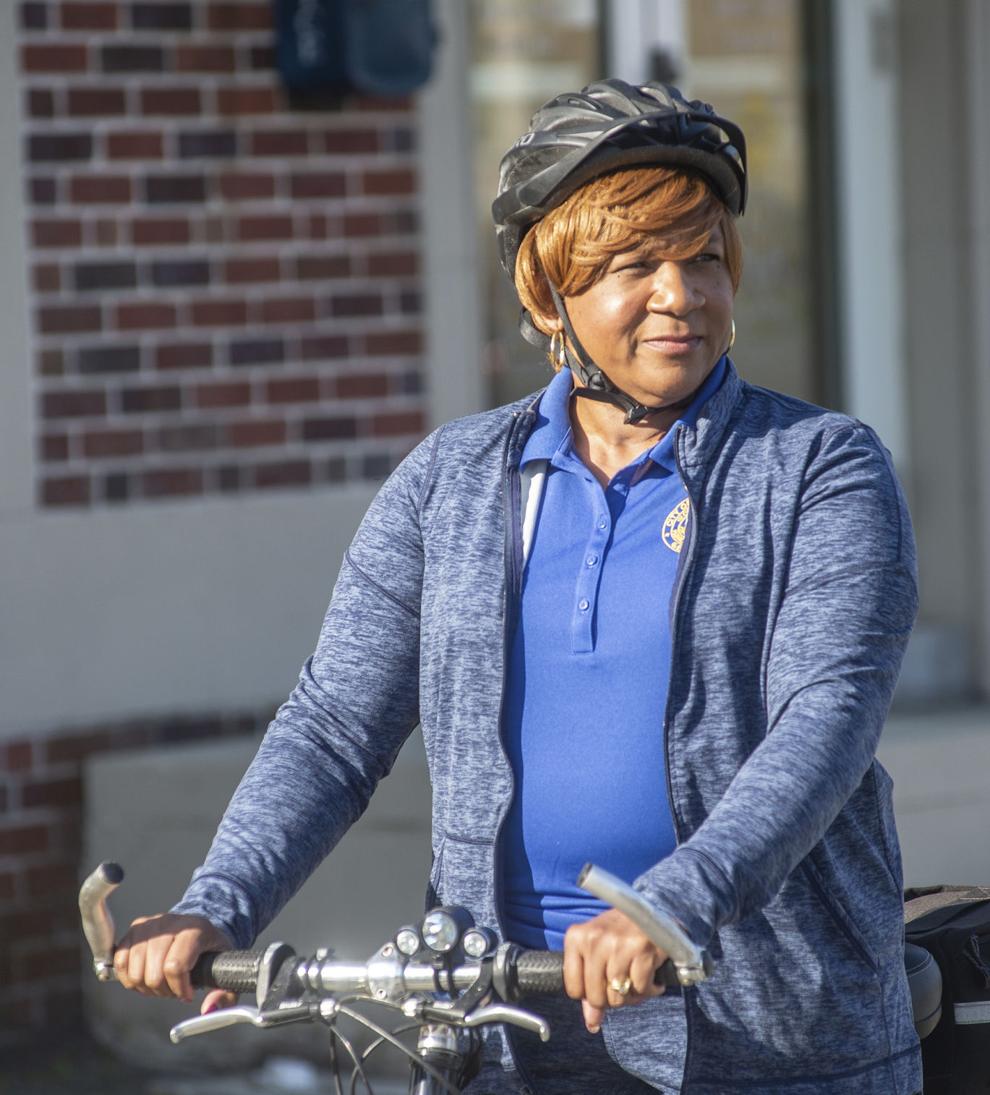 On Reynolds Street, she thanked a man who was cleaning up around the residence of an absentee landowner. "Thank you, ma'am," David Page responded. "It needs to be cleaned up."
City Public Works employee Willie "Cat" Williams assured McDuffie he did not need a pressure washer to clean street signs. A brush, soap and elbow grease works fine. A pressure washer would only shear the paint off.
"I would rather do it this way. If I do it this way, I've got a job," he said, inciting laughter all around.
A house painter's radio was playing country singer Blake Shelton's "Old Red." McDuffie hummed along as the bicycle patrol passed. "I love country music," she said.
A man in the 2500 block of Wolfe Street walked to his front fence to greet them. "I'm glad to see y'all pass through. Y'all do a good job."
The Brunswick Police Department does its job with a significantly understaffed force. At present, the department is 23 officers short of a full staff of 72.
With the exception of intermittent patrols, the bicycle unit barely exists these days. It is an old story for the Brunswick PD: train young officers; watch young officers leave to bigger departments and better pay.
The department's fleet of squad cars includes eight nearly obsolete Ford Crown Victorias from the early 2000s.
During the bike ride, McDuffie and Jones discussed these issues. They talked of ways to find the money to at least replace the outdated squad cars. McDuffie said the money could probably be found.
"I'm putting my vehicles on the agenda for next month's meeting," Jones said toward the end of the ride. McDuffie nodded.
One thing the police department has learned in the last 11 months: they have a friend in this new city manager.
"I also went on this ride to show support for my police department," McDuffie said. "I love the police department. They have great accountability and integrity. I want to help them get to full staff."