An array of spray paint cans boasting joyful colors of all kinds were arranged in a messy circle on the ground.
On the wall towering above, a mural has come to life over the last few weeks, displaying vibrant colors that seem to leap off the stone surface, pulling viewers in to observe yet another message of hope in downtown Brunswick.
Last week, the mural's artist Kevin Bongang pulled on a face mask and picked up a dark orange spray paint can to continue his freestyle work.
"Everybody who I've talked to walking a dog around here, they thank me for adding this into their space," Bongang said.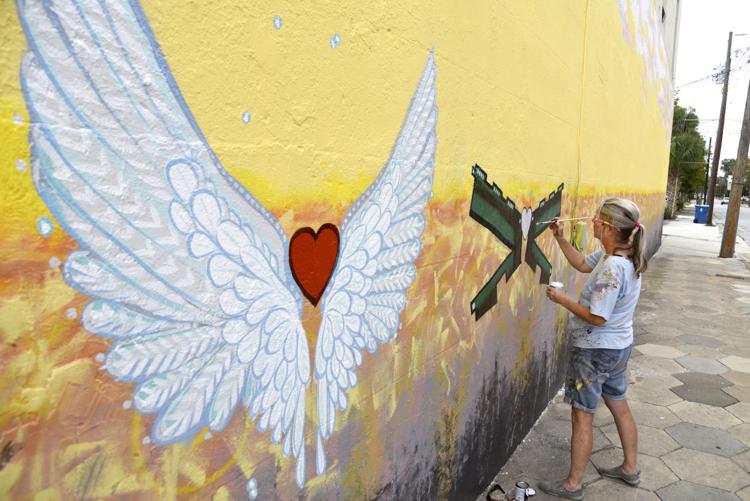 The arts subcommittee proposed the downtown mural project as a way to bring messages of hope and revitalization to downtown Brunswick immediately. Murals, they said, cultivate a sense of community ownership and brighten up areas that sometimes just need a fresh coat of paint.
Bongang, a freelance artist who recently moved back to Brunswick, originally proposed creating a mural around the word "Hope" on the wall behind Indigo Coastal Shanty. But when he began working on the mural, he said the wall seemed too bare. So he changed his message to "Love is hope," then surrounded the words with coastal imagery and bright colors that convey the meaning of his message.
"Being that we're in Brunswick, I'm trying to feature the whole coastal element," he said. "I'm probably going to put the Lanier Bridge up top, and of course birds. I used to want to be a bird watcher, so in every mural I do there's a bird of some sort."
A few blocks down, mural artist Catherine Durrett recently began to paint her own hopeful imagery onto the side of the Subway downtown. Against a backdrop of yellow and pink, she plans to paint eight sets of selfie-friendly wings that will stretch down the side of the building. The wings will be great for photo opportunities, she said.
"Our end goal is to make art in general more accessible to everybody," said Durrett, while working on a pair of Transformers wings last week. (The other wing options will be those of an angel, a butterfly, a fairy, a bird, a bat, a dragonfly and then a cape.)
"I titled the piece 'Winging it,'" she said.
Durrett moved back to Brunswick from Atlanta about a year ago. She said it's easy to see the potential for revitalization, especially downtown. The area just needs a way to attract more people, she said.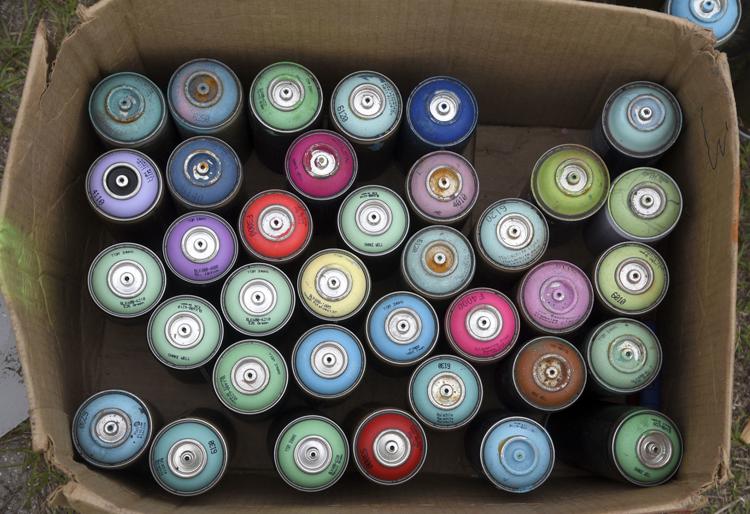 Bongang grew up in Savannah and received his bachelor and master's degrees from SCAD's Atlanta campus. He lived and worked most recently in Nashville, and he's now a freelancer. Some of his work can be seen online at bongang.com.
"All of my murals to date, except for maybe one, have been freestyle," he said. "Usually I can get away with talking about the concept."
Due to some technical difficulties with peeling paint and ineffective tape, Bongang has freestyled the entirety of the mural near Indigo Coastal Shanty.
Murals, he said, add belonging to the community and evoke pride among residents.
"It enriches the community, by not just adding color but adding a positive message," he said. "In all my murals, I always try to have text of some form, like a specific inspiring message or a word that kind of gets you going."