On a recent school day at Glynn Academy, a student walked into Cathy McCloskey's office and asked if the rumor was true. Could she really dead-lift more than the school's football players?
News had just begun to spread around campus about the school nurse's latest achievement. McCloskey won three gold medals and broke three national weightlifting records in the National Masters Championships this year.
Few at the school even knew McCloskey had been competing in Olympic weightlifting for a decade until word got out about her victories at the meet in March. Now that they know, many will be supporting her when she steps onto the world stage later this month to represent the United States at the World Masters Championships.
"It was supposed to be in Japan, which was obviously canceled, so they're giving us the opportunity to do it through a Zoom platform virtually," McCloskey said. "… Instead of everybody from all the different countries that I'm competing with gathering on one stage in Japan, I will do it locally in our gym through a Zoom platform and I'll just kind of be by myself."
She won't be alone. Her longtime coach, James K. Ellison, owner of CrossFit Salt & Old School Weightlifting gym in Glynn County, will be right beside her, cheering her on and pushing her to be her best.
"In the world of coaching, honestly, there is no more," Ellison said. "She's reached the pinnacle, which is also a pinnacle for me to have her on the world stage."
At the national competition earlier this year, McCloskey broke three National Masters records, including the records for the snatch and clean and jerk lifts.
She lifted 51 kilograms, or 112 pounds, in the snatch lift and 68 kilograms, or 150 pounds, in the clean and jerk lift.
"It was a good meet," she said. "Some work out really well and some don't. You can train, and it all depends on what happens that day."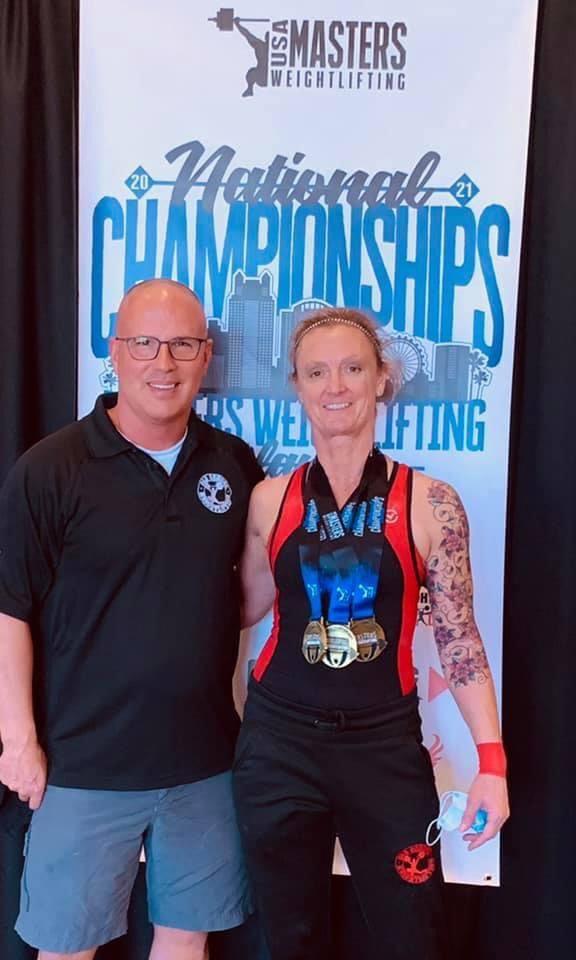 McCloskey got involved in the sport of weightlifting through her experience in CrossFit. She's been continuously drawn to the sport because of the sense of individual accomplishment she's able to earn.
"You obviously compete against others, but you're always competing against yourself, trying to make yourself better, improve your technique," she said. "So even though we all compete on the same platform, for most of us it's an individual competition as well."
McCloskey, who has worked for Glynn County Schools for 15 years and at Glynn Academy since 2015, leaves work every day and heads to the gym, where she puts in around two hours of practice five to six days a week. Her workouts involve a lot of structured strength training.
"It's very regimented, down to a science, a formula based off of her last successful lift at whatever meet," Ellison said. "And that's why the meets are so important. The meets are where she goes and tries to raise that total …. We die for 2.2 pounds, a pound."
There's more than strength involved. A skilled lifter practices coordination and mental focus as well.
"Part of the training is strength obviously — the squats, that kind of stuff," McCloskey said. "But I spend a lot of time, and he gives me a lot of techniques to improve every single little part of that lift … There's always something to do, always something to fix."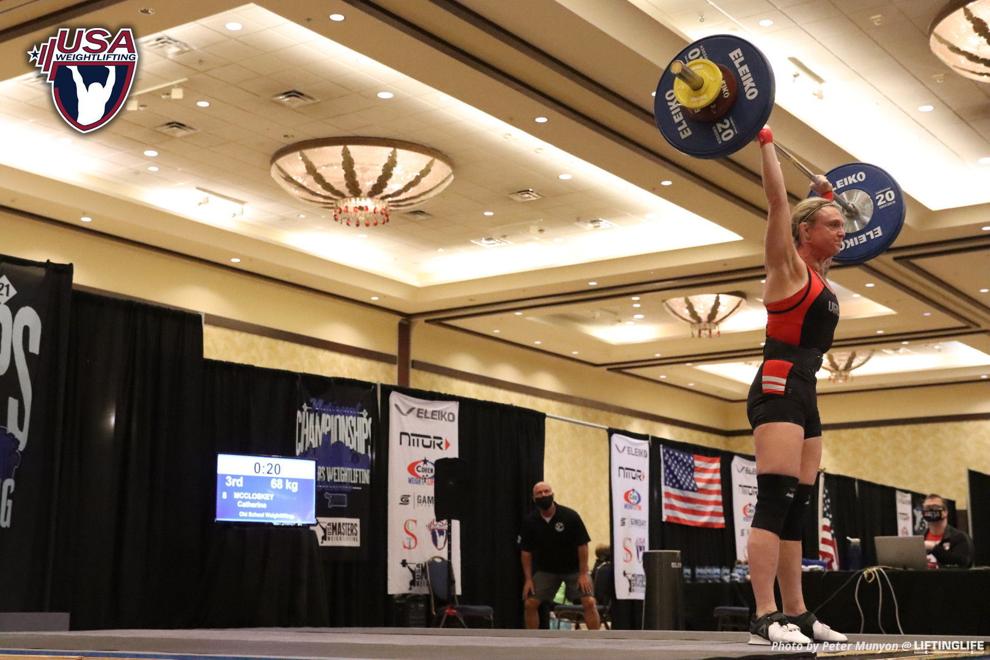 She said she spends a lot of time working on her technique, and she's found that with discipline and consistency anything is possible.
"Most people would say 'I can't do that,' but anybody can do it," McCloskey said. "That's the beauty of this sport. It's a very all-encompassing and welcoming sport. Nobody judges. You just get out there on the platform, you do the best you can and everybody cheers for everybody."
She attended nine competitions in 2020, during which she worked hard on her mental strength.
"I can go to the gym every day, but you get out there on that platform and you're by yourself and you go up to that bar, and if you don't have a strong mind it can all go wrong," McCloskey said. "So I worked hard on that last year, and I think that's led to a lot of my success."
Scenario-based training can strengthen the mind, Ellison said.
"She and I have been around a long time. When I say things, a new lifter may think he's saying something stupid, but she and I know it's a true scenario that we could've been in," he said. "So we try to recreate something that we've seen or done or even seen other athletes have to do."
McCloskey said having a coach like Ellison has been crucial to her success in the sport.
"He keeps me on track," she said. "Having a coach is key. He's been a coach for a very long time, and he knows what I need to focus on. I could never go in without guidance. I'd just kind of get lost, so he keeps me on track and makes sure I get done what needs to get done."
She describes her experience in the sport as life-changing.
"I never played sports in high school," McCloskey said. "When I first started at the gym, I couldn't even do a push-up."
None of that mattered. All she needed was a belief in herself and support from others.
"This has just made me realize that there's really nothing that you can't do," she said. "You just kind of hold your head up higher and you'll be able to go to the competitions and be able to compete with some of the best that are out there, and it is pretty inspiring."
When on the global stage May 24 for the World Masters Championships, she knows she'll have a community of supporters behind her.
She sees it as just another chance to demonstrate what's possible.
"You can tell the kids all day long what to do, but if you can inspire them by actually doing it and they see you do it and think 'wow' I can do that too, that's what it's about," McCloskey said.