Any sense of order is quickly lost among the colorful shapes and squiggles that form Kevin Bongang's latest local mural.
The artwork, which covers a basketball court outside the Boys & Girls Club site at Burroughs-Molette Elementary, evokes a sense of childlike wonder fitting for its intended audience. Smiling faces are interspersed throughout the concrete canvas.
Bongang, a Brunswick-based artist, hopes the imagery inspires those who experience the mural.
"Thinking about the kids, I wanted to give them something bright to look at every day, something that's inspiring," Bongang said.
The Boys & Girls Club approached Bongang recently with a request to create a mural on the new outdoor play area after staff saw his artwork near Coastal Indigo Shanty and on the newest Wake Up Coffee location on Altama Avenue.
Bongang completed the wide stretch of art in several weeks with the help of his wife, Britney. They began by rolling white paint across the entire surface. Then all Kevin had to do was imagine a way to fill the space.
"It's all about mark making for me," he said. "I've just got to put a mark down, and then the process builds as the layers build up and I'm able to visualize the actual subject matter."
Almost as soon as he stepped onto the empty court, Bongang was drawn to the idea of referencing the 2000 film "Love & Basketball." So he incorporated those words along with numerous painted basketballs, hearts and other imagery.
"When you watch that movie, it's such a passion for the game of basketball," he said.
Bongang presented the Boys & Girls Club staff with a concept made up mostly of large geometric shapes with a promise that he'd build on that foundation to create the tapestry of shapes and words that make up the finished mural.
"They needed to see where I was going with this so I gave them a concept which was very basic and geometric, very big shapes," he said. "And then they were like, 'Well, that's not necessarily 'Bongang' like what we see.' So I said this is just going to be a foundation. I'm going to build on top of that, just trust me. And they trusted me."
He also painted games of four square, hopscotch and twister near the mural and hoop backboards placed around the court.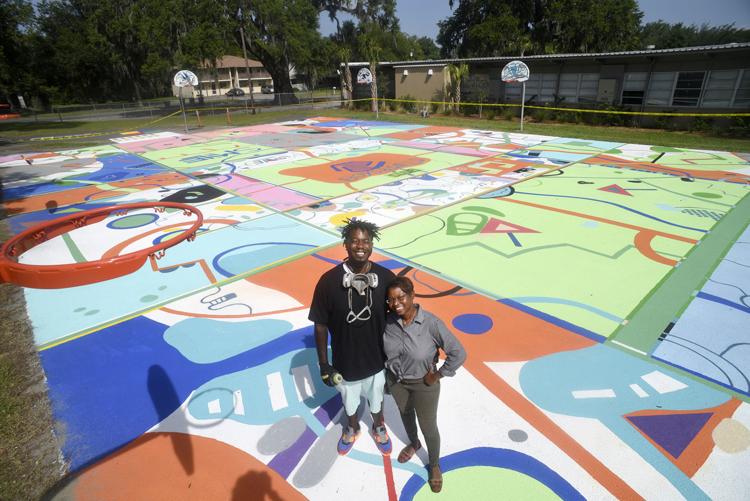 The Boys & Girls Club opened the Burroughs- Molette site in 2019 to serve the children in the surrounding neighborhood.
They previously had to travel further to the McIntyre Court location for daily afterschool and summer programs.
Bongang has created murals in numerous cities, including Savannah and Atlanta. While the basketball court mural in Brunswick isn't his largest, it is the biggest floor mural he's painted.
He said he was happy to partner with the Boys & Girls Club because its mission, empowering youth, is one he fully supports.
"A big part of my message, and just art in general, is always about the community," he said.
Those interested in viewing more of Bongang's work can do so online at bongang.com or on Instagram and Facebook at "Bongangart."