Opal Lee, a social impact leader known as the "Grandmother of Juneteenth," will visit Brunswick this weekend to celebrate her years-long effort to raise awareness of the history and timeline of emancipation in the United States.
Lee, 93, has led a national effort to make June 19, or Juneteenth, a federal holiday across the United States.
Lee, who will be in town Friday through Sunday, will visit with community members and share her message. She'll also promote her children's book, "Juneteenth: A Children's Story."
Lee is the oldest living board member of the National Juneteenth Observance Foundation. The foundation has worked to establish in 43 states days of observance for Juneteenth, a holiday that celebrates the emancipation of those who were enslaved in the United States. The celebration originates in Galveston, Texas, and commemorates the June 19, 1865, anniversary of the announcement by a Union army general who proclaimed freedom from slavery in Texas, more than two and a half years after the signing of the Emancipation Proclamation by President Abraham Lincoln.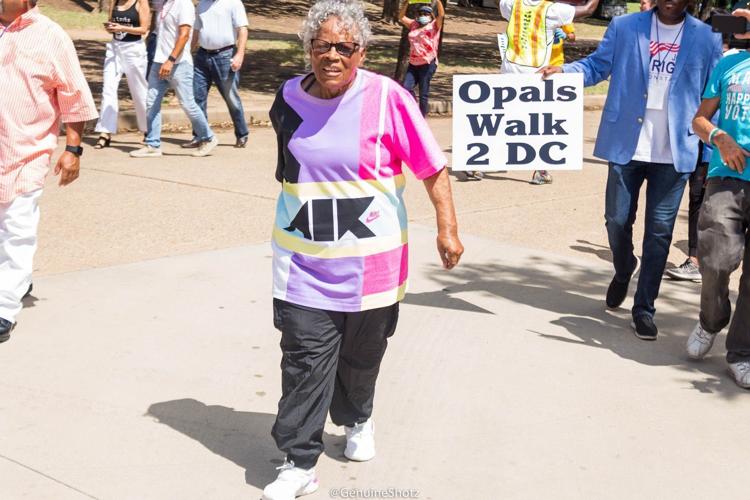 Lee established in 2016 a campaign called "Opals Walk 2 DC," through which she has raised awareness of Juneteenth and worked to create a national holiday.
"The main reason for having her here is to acknowledge all the work that she's done and the sacrifices she's been making to help make Juneteenth a national holiday, especially in light of what's been going on around the world," said Titania Cook, founder of Juneteenth-GA, the local organization that has coordinated Lee's visit. "This year especially, Juneteenth has really gotten a lot of recognition, and more people are familiar with Juneteenth."
Juneteenth-GA, founded in 2014, is part of the National Juneteenth Observance Foundation, and its mission is to honor America's diverse history and provide cultural education about the celebration of the individuals and events that ended slavery.
Lee's visit will kick off with a meet-and-greet event at 6 p.m. Friday at the Embassy Suites, located at 500 Mall Blvd. in Brunswick. Seating will be limited to 75, and masks and temperature checks will be required.
She will host a book reading at the Brunswick library at 11 a.m. Saturday. Seating will be limited to 25, and masks and temperature checks will again be required. After the reading, Lee will walk to Mary Ross Park for a presentation.
She will visit St. Paul AME Church for an 11 a.m. service Sunday, after which her team will lead a caravan to the Satilla Shores neighborhood where Ahmaud Arbery was murdered in February. Lee plans to host a prayer vigil on site at 3 p.m.
Arbery, a 25-year-old Black man, was jogging through the neighborhood when he was pursued by three White men, one of whom shot and killed him.
Lee has collected more than a million signatures so far in her campaign petitioning to make Juneteenth a national holiday.
"They've been asking people to call their senators in every state, to call people who make policy, so that they can put Juneteenth on the federal calendar to be acknowledged as a national paid holiday," Cook said.
Lee, who will soon turn 94, has been advocating for Juneteenth for 30 years.
"We do encourage members of the community to come out and meet Ms. Opal and just support her receiving this award here in the city of Brunswick for her efforts," Cook said.
The events are free and open to the public. Anyone with questions is asked to call 912-230-0856.