Some renovations are best appreciated through before and after images.
The recent update of a 60-year-old Glynn Academy building deserves to be seen from that vantage.
Glynn County Schools completed over the past year extensive renovations on the Science Building as part of ongoing modernization efforts on Glynn Academy's campus. The high school closed the building to students through the 2019-20 school year.
"This isn't the most high-tech and fancy building, but compared to what it was, it's really nice," said Al Boudreau, executive director of operations for Glynn County Schools.
Before renovation, the building was missing a few needed features to meet safety codes. AC units protruded from windows, and classroom and lab spaces did not perfectly meet the needs of science teachers.
Teachers returned to campus Tuesday and began filling the empty classrooms with their learning materials for the upcoming school year, which begins Aug. 20.
"I'm definitely excited to see the students face to face again," said Lori Todd, during a brief pause from setting up her biology classroom. "That was really rough on all of us because it's such a relational job, and not being able to have that face-to-face instruction, we just felt kind of isolated from everybody."
Reopening schools during the pandemic has Todd and other teachers nervous about staying safe and protecting themselves and their students from the coronavirus.
"But I feel like the county has put some really good measures in place to be able to allow us the opportunity to come back," Todd said.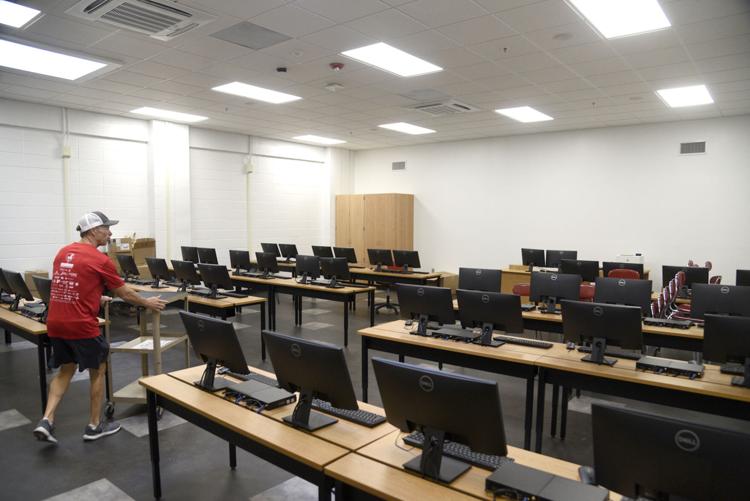 The Science Building was due for some much-needed updates, inside and outside, Boudreau said.
"It was in bad need of renovation," he said. "What you'll notice is we got rid of the AC units that used to hang in a window so you don't see that anymore. It was due for a facelift."
Its framework is solid, though, Boudreau said.
"When they totally gutted this place, we realized … if there's a hurricane, this is where I'm coming," he said. "This thing is well built."
The $7.1 million project, paid for with ESPLOST 3 funds, was overseen by R.H. Tyson Construction. The company also completed the recent Sidney Lanier renovation and will manage the upcoming auxiliary gym construction on campus.
Glynn Academy teachers provided feedback before the Science Building project began, and they asked for expanded lab and classrooms spaces.
The second floor now offers larger science classrooms with lab space and instruction space in the same room.
"This building had a bunch of small demonstration rooms in it, so we actually took some walls out to make them all one big room so that they could get the classroom and the lab in the same space," Boudreau said.
Glynn Academy operated a temporary media center last school year in the Sidney Lanier Building. Pallets of books sat on the floor of the renovated media center this week, ready to be shelved. Another 40 pallets of books were stored last year at the Golden Isles College and Career Academy and will soon return to their shelves at Glynn Academy.
Technology was also added throughout the building, including new Promethean boards in classrooms that replaced projectors and a new computer lab in the media center.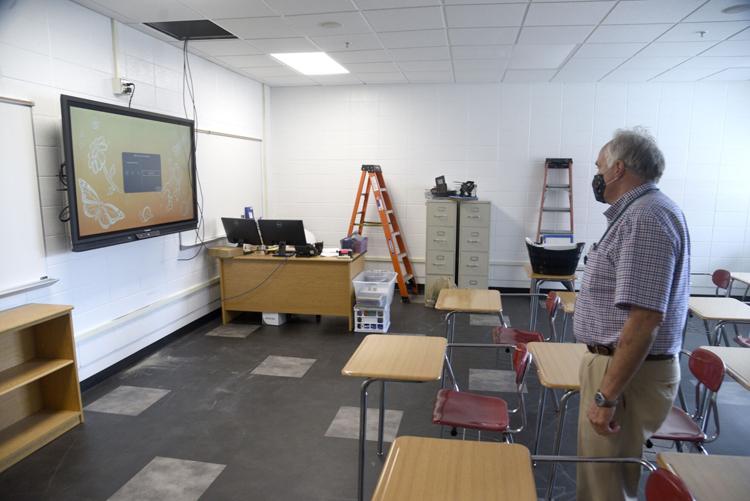 The Science Building was brought up to code in numerous ways, including the addition of an elevator and new fire doors.
"You almost need before and after pictures to appreciate this," said Boudreau, walking up the stairs, his voice echoing in the corridor. "These stairs, they were so beat up."
Countertops for lab tables were the last essential addition Boudreau was waiting on Tuesday.
The next building renovation is set to take place in the GA building, which faces Norwich Street and serves as the face of the campus.
This summer, the school also renovated and reconfigured its front office area, adding a new door for those coming onto campus after gates have closed and an exit from the front office directly onto campus via a new ramp.
The entrance update improves campus security and access control.
"We added this ramp going into the GA building and that's going to be the new attendance office," Boudreau said. "So once school is in and that gate is locked, everybody comes and goes through the attendance office."