The Georgia Bureau of Investigation is now investigating the Feb. 23 shooting death of Ahmaud Arbery, which followed a daytime confrontation with an armed father and son on a neighborhood street in southern Glynn County.
In a brief tweet released late Tuesday night, the GBI said it is investigating the fatal shooting at the request of Liberty County District Attorney Tom Durden. Durden, who represents the Atlantic Judicial Circuit, announced on Tuesday that he has asked a Glynn County grand jury to consider criminal charges against Travis McMichael, 34, and his father, Gregory McMichael, 64. The two armed men pursued Arbery for a block in a pickup truck inside the Satilla Shores community, according to a Glynn County police report. Travis McMichael stepped out of the truck with a shotgun and confronted Arbery, according to the report. Recently released video supports this account.
A struggle ensued for possession of the gun. McMichael fired the shotgun three times. Arbery, 25, stumbled to the street after the third shot and died on the scene. The Glynn County Police Department's report on the shooting, first released to The News on April 1 in response to a public records request, states only two shots were fired. The video, released anonymously to a local radio station, clearly includes the sound of three gunshots during the struggle.
News of the GBI's involvement in the case was among several new developments on many fronts within a frenzied 24-hour span of events.
Arbery's parents held a video press conference Wednesday morning with their respective lawyers, who called for the immediate arrests of the McMichael men, as well as one other man who they say played a role in the shooting. Attorneys Lee Merritt and Benjamin Crump also suggested the case would be better served on the federal level and treated as a hate crime.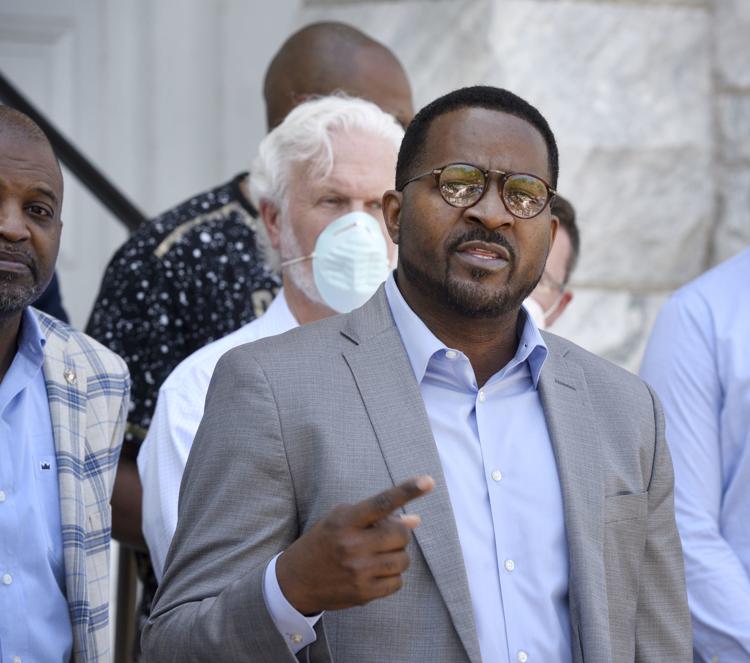 Later Wednesday afternoon, a group of Glynn County clergy and community leaders gathered on the steps of Old City Hall in Brunswick, demanding the immediate resignation of Glynn County Police Chief John Powell. Powell is presently on paid administrative leave. The group also called on Georgia Gov. Brian Kemp to expedite the convening of a grand jury to hear the case.
Additionally, Kemp's office announced Wednesday night that the GBI and other state resources stand ready to assist Durden with the case.
State Attorney General Chris Carr expressed alarm after viewing the video of the shooting. Carr, who oversees the state DA offices, said he also is prepared to offer any resources he can to Durden's office.
"Based on the video footage and news reports that I have seen, I am deeply concerned with the events surrounding the shooting of Ahmad Arbery," Carr tweeted at 9:39 p.m. Tuesday night. "I expect justice to be carried out as swiftly as possible, and I stand ready to support GBI Director Reynolds, DA Durden and the local community."
The 12 community leaders and clergymen on the front steps of Old City Hall also called for swift justice.
While the racially tinged shooting is drawing national attention and outrage, the Rev. John Perry II called for continued unity among the folks of Glynn County. More directly, the NAACP leader said the group standing behind him stood as one in demanding Powell's resignation.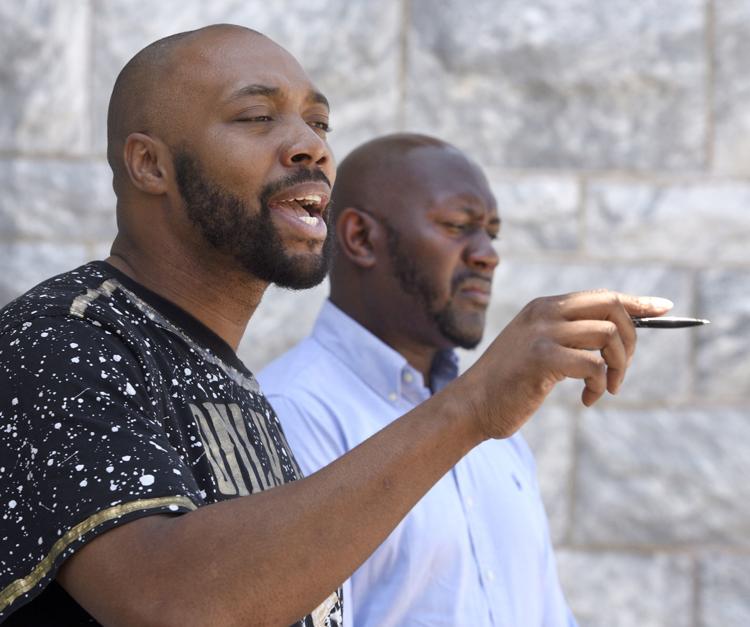 Powell has been on paid administrative leave since his arrest Feb. 27 on charges of perjury and violating his oath of office, stemming from a scandal last year that imploded the department's narcotics enforcement squad. Echoing many other local leaders' opinions, Perry said there should have been an immediate arrest by Glynn County police the day of the shooting. Short of that, the GBI should have been called in to take over the investigation.
"With this level of negligence and injustice, he should not be on our county payroll," Perry said. "We are asking that our Glynn County commissioners and our county manager make an immediate decision to dismiss him."
Gregory McMichael was an investigator with the Brunswick Judicial Circuit District Attorney's Office for more than 20 years before retiring a year ago. He was a county policeman for seven years before that.
Brunswick DA Jackie Johnson immediately cited a conflict of interest because of McMichael's connections there. The case went to Ware County DA George E. Barnhill. Barnhill stepped down in April after a conflict emerged because his son is an attorney with the Brunswick DA.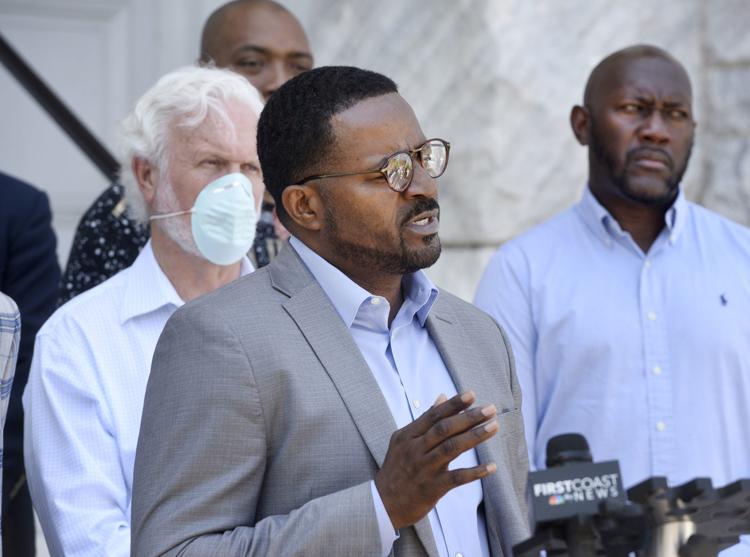 Attorney General Carr appointed the case to DA Durden on April 13.
While Durden believes the evidence warrants charges against both of the McMichaels men, he noted that a grand jury could not convene until at least June 12 at the earliest due to COVID-19 pandemic social distancing guidelines.
The group at Old City Hall called on Durden and state officials to make convening a grand jury a priority. The 12 consisted of black and white men. That the case went nearly 2 ½ months without action is a discredit to the community, Perry said.
"We ask DA Tom Durden to join us in asking Gov. Kemp to make sure this goes to a grand jury immediately," Perry said. "We know that coronavirus is stopping a lot of things. But if Gov. Kemp could let businesses go back into operation so that we can get our economic system back flowing again, then justice should be just that important as well."
Arbery's parents, Wanda Cooper Jones and Marcus Arbery Sr., joined their attorneys in a video press conference earlier Wednesday. Jones' attorney, Merritt, took part from his offices in Dallas, Texas. The Tallahassee-based Crump was on hand with the elder Arbery in Brunswick.
Jones said county police gave her misinformation immediately following her son's death. Jones said she was told Arbery was shot while struggling with a homeowner for a handgun during a burglary. She said she did not learn Arbery was shot after the two men pursued him in a pickup truck through the neighborhood until The News reported it on April 1.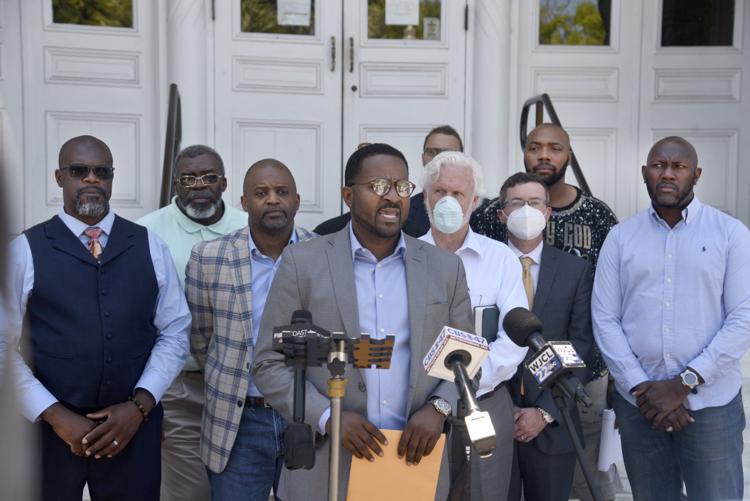 Gregory McMichael told police he saw Arbery running down the street and suspected him of burglary. He said he went inside the home and called to his son, Travis. Gregory McMichael grabbed a .357 caliber handgun and Travis McMichael took the shotgun, according to the police report. They hopped in a pickup truck and pursued Arbery, the report said.
The first 911 caller told the dispatcher at 1:09 p.m. that Arbery had stepped inside an open home under construction, then stepped back out and started running down the road, according to 911 tapes obtained by The News. The dispatcher interrupted the caller at one point to ask "what he was doing wrong?" A second 911 caller at 1:14 p.m.: "There's a black male running down the road," according to 911 tapes.
"They told me he was involved in a burglary," Cooper said. "And during a confrontation — a tussle over a handgun — he was shot and killed. I didn't question that at the time, because when authority comes and tells you something, you trust authority."
"My son was not shot in a home," she added. "My son was actually chased, and he was gunned down in the street. He was the most-humble young man you could meet. He was a 'yes, ma'am, no ma'am' fellow. Ahmaud did not deserve to go out like this."
Arbery worked at times with his father's landscaping company. The former standout football player at Brunswick High was an avid runner, committed to staying in good shape. A resident of Satilla Shores said Friday that she had seen Arbery jogging through the neighborhood off U.S. 17 several times.
"I do believe that Ahmaud was just out for a daily jog," the senior Arbery said. "I believed it from day one. He's been doing it for years. He's never had any problems. It just hurts so much that his life has been cut off. They cut his life short. He was minding his own business."
Merritt and Crump said they believe sufficient evidence exists to arrest the McMichaels. They agreed the case should not wait another month for a grand jury's consideration. They called for intervention by the U.S. Attorney's Office and the FBI in the investigation and prosecution.
"We think this is a hate crime, specifically," Merritt said. "I think it is more appropriate for the U.S. Attorney's Office and the FBI to pursue this."
"We can't let this be swept under the rug," Crump said. "As Martin Luther King Jr. said, justice delayed is justice denied. Therefore, we are calling for immediate action."
Arbery would have been 26 on Friday. A demonstration is planned for outside the Glynn County Courthouse that day, said Travis "Slim" Riddle, an Atlanta area rapper and Brunswick native. He invited folks from all walks of life to join the 10 a.m. gathering in honor of Arbery.
"I would like everybody — white, black, green, colored, boy, girl — to be there to support a strong and positive consensus,' said Riddle, who was among those gathered at the courthouse. "Let's show that what's happening here now will not continue to happen here in Glynn County. We are going to have a peaceful protest, but we're going to have a strong protest. And we're going to present a strong unified front. I'm from here — I love this city, I love this community and I love this county. Guys, please, let's not make this a race issue that divides us from what we're standing for: We're one city, one race and one law."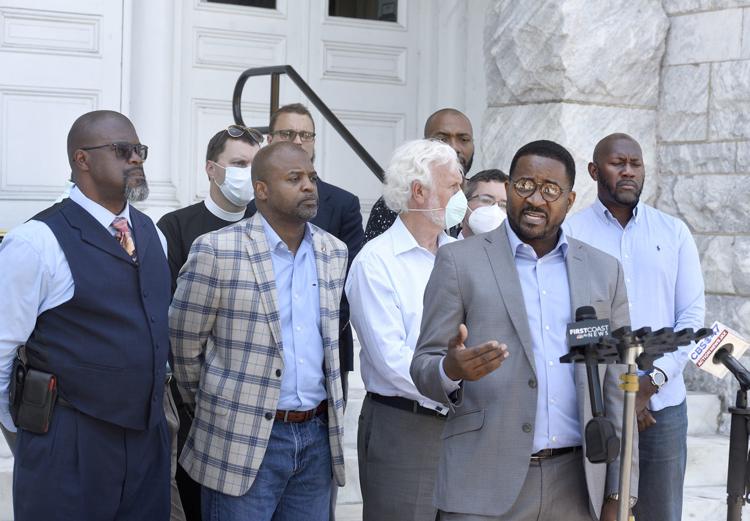 The chilling video showing Arbery's final moments made it onto several social mediums Tuesday, spreading outrage and disbelief. Cooper still has not seen it. She does not plan to.
"I haven't viewed the video," she said. "I saw my son coming into this world. And seeing him leave this world is not something I would ever like to see."
In a short statement released at 10:20 p.m. Tuesday, the GBI said only that it is investigating the shooting at the request of DA Durden. Stacy Carson, GBI Agent in Charge of the Kingsland Office, told The News that the agency could not comment further at this time.