An alligator has a jaw pressure of about 1,500 pounds per square inch.
Yet, when a baby alligator needs to hatch out of an egg, its mother gator will take the egg in her mouth and apply just enough pressure to delicately crack the shell and release her hatchling.
Alligators are powerful predators that haven't changed much in their 37 million years on earth. And yet, small interactions with humans can be disastrous for an alligator and quickly ruin their honed survival instincts.
Many unexpected contradictions and fascinating facts about alligators are shared during weekly Gatorology 101 classes offered by Jekyll Island's conservation team.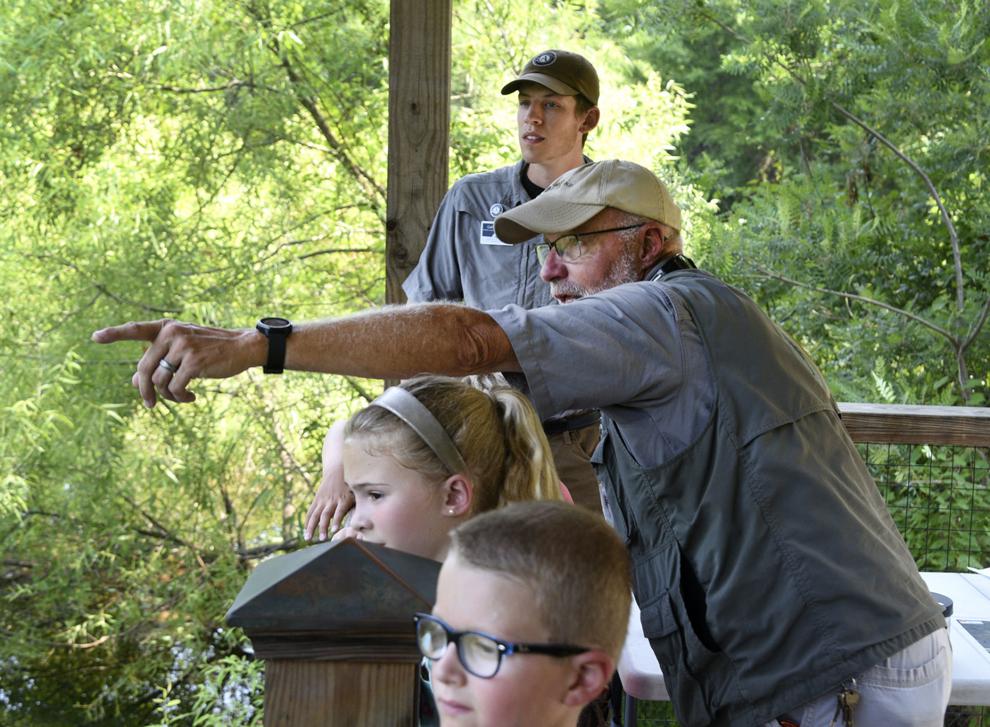 The class, which will take place throughout the summer, offers a hands-on learning experience that covers the American alligator's biology and behavior.
The classes aim to educate the public on how to respect alligators, said Ray Emerson, lead park ranger on Jekyll Island.
"There are a lot of people that think the wrong things about them, whether it be to be terrified of them or whether it be not to be respectful of them," he said.
Emerson began a class Wednesday for a family group from Jacksonville by asking the children in attendance what first came to their minds at the word "alligator."
"Sharp teeth," "big mouth," and "chomp chomp" were among their answers.
The biggest takeaway of the Gatorology class, Emerson said, boiled down to: "Don't try to approach (the alligators) … Don't try to get near them. Don't try to touch them. Don't try to feed them."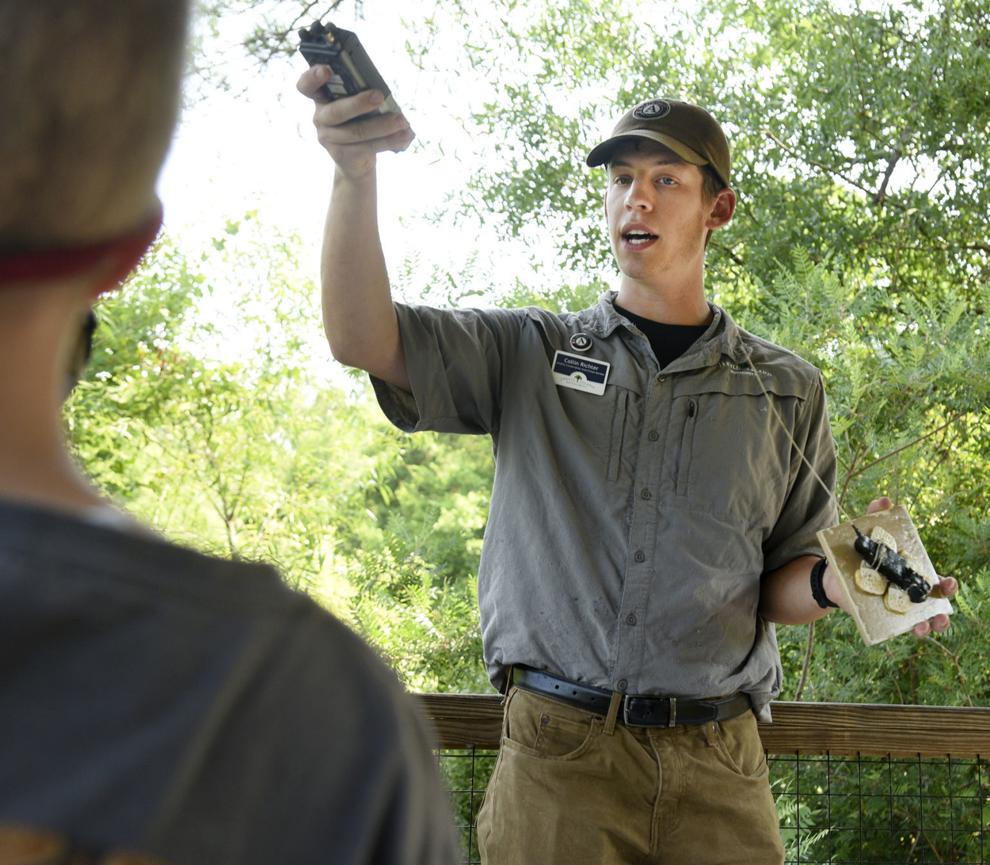 The class is held on a dock overlooking Horton Pond, which is a bustling natural habitat on Jekyll Island.
"We have all kinds of cool things that live here," Emerson said. "Now, on a hot day like today, you're not going to see a bunch of them, because things are in the shade like we are, trying to stay cool."
On less suffocatingly hot days, though, turtles can be seen swimming below the waters surface alongside many types of fish. Insects buzz on top of the water and around the many plants surrounding the pond.
About 10 alligators live at the pond as well.
"We have an alpha male and an alpha female," Emerson said. "So they are kind of like boyfriend and girlfriend, and they run the show on the pond as far as the alligators go. They are the ones that mate and have babies every once in a while."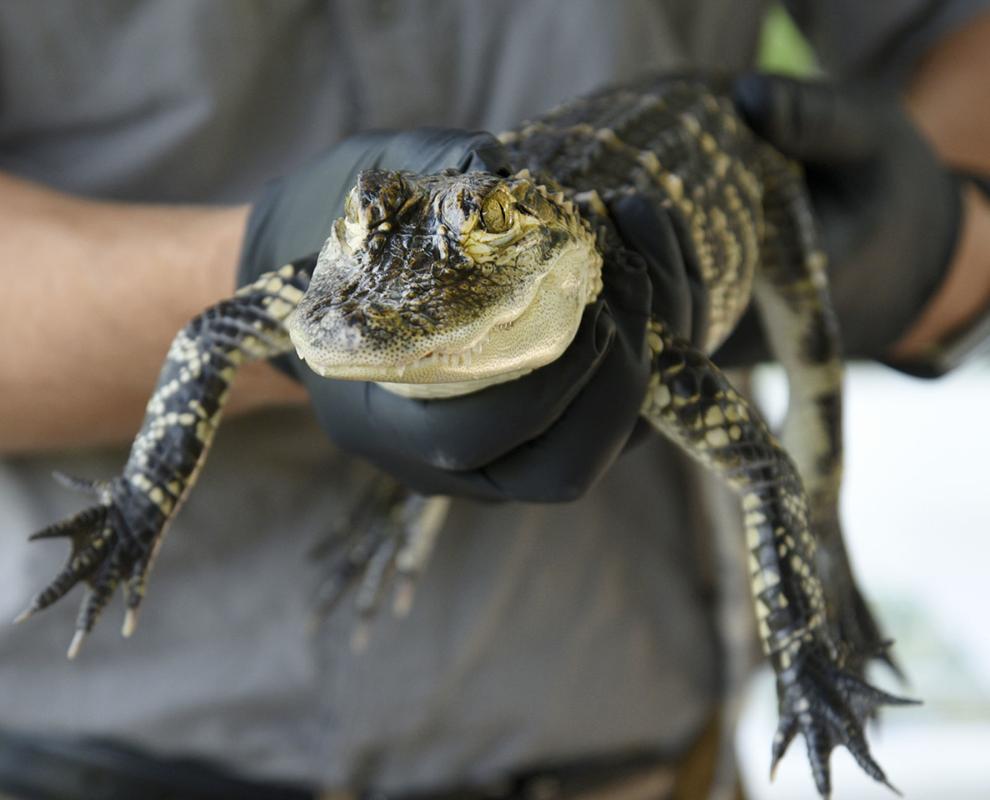 Alligators moved onto Jekyll well before humans arrived, said Collin Richter, an AmeriCorps member for the conservation team.
"Alligators have been on Jekyll as long as Jekyll has been an island, so that's about 5,000 years," Richter said.
Richter shared how the gators on Jekyll have been researched and tracked. The male alligators move frequently around the island, seeking food, claiming territory and meeting up with their mates. One gator, Striker, crosses the roundabout by the Beach Village shopping area about twice a day.
"He has a girlfriend behind Flash Foods and Dairy Queen, and then he has a girlfriend in a wetland across the street from Flash Foods and Dairy Queen," Emerson said. "And then another one down here at the south end."
"Too many girlfriends," a child in the class pointed out.
Gator breeding and nesting were discussed at length during the class. Gators at this time of year have finished mating, and the female gators have begun to find nesting areas to lay their eggs inside.
"What they do is they crawl up on the shore … and they make a big mound of vegetation and leaf litter and stuff, and they lay their eggs inside that big pile," Richter said.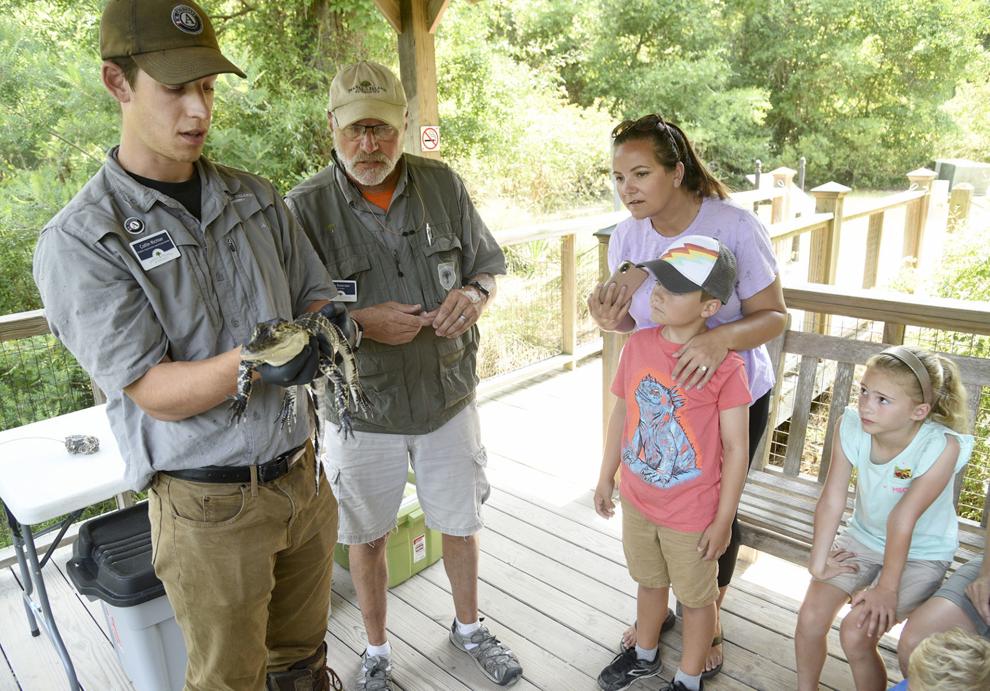 The eggs incubate in the hot pile of vegetation, staying warm under rotting leaves.
Gator moms will fiercely protect the eggs from potential dangers, like raccoons. Turtles will sneak in and lay their own eggs in the gator nest, to benefit from the gator's protective instincts.
Hatchlings will live with their mom up to about three years. Emerson and Richter brought a 2-year-old hatchling named Timmy for the class attendees to see up close and pet.
Timmy, born at the alligator farm in St. Augustine, Fla., serves as an "educational representative" that helps conservation team members spread the word on the importance of respecting gators.
"They don't typically see people, so they don't expect food from them unless people go places and start feeding them," Emerson said. "So they start to become this big word called 'habitualized.'"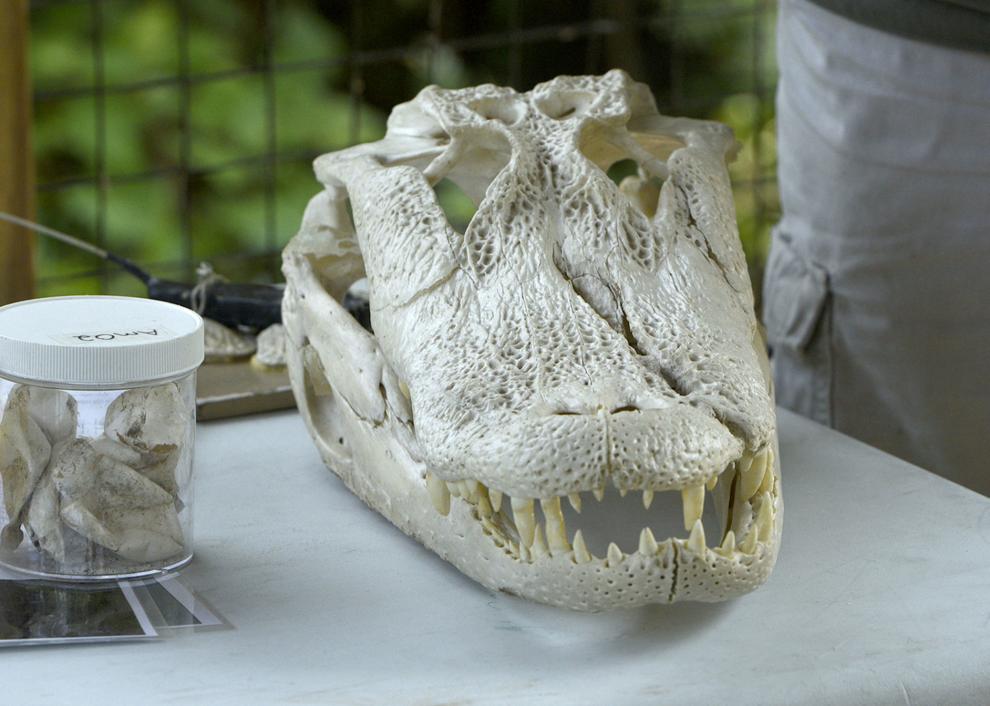 Habitualized gators lose their natural fear of people, Emerson said. The gators begin to expect food when they see humans and may become aggressive if no food is provided.
"Habitualization is a big deal," Emerson said. "We educate a lot on, 'Don't approach, don't touch, don't feed.' And we have signs all over the place here, but people still do it."