Tom Luckstone sat down and greeted his mother with a smile.
Charlotte Luckstone, a member of the Thrive senior living community on St. Simons, smiled back at her son through a plexiglass structure set up Friday. The pair spoke to each other through battery operated phones.
Charlotte Luckstone, like the other residents of Thrive at Frederica, has had to significantly limit her movements and face-to-face interactions since the beginning of March, when restrictions were tightened in the Thrive community on St. Simons. The restrictions are necessary to protect Thrive's nearly 50 residents from contracting COVID-19.
A gift delivered to Thrive on Friday aimed to allow residents to begin visiting with loved ones more frequently. The community, located at 3615 Frederica Road, serves assisted living and memory care residents.
Thrive's corporate leaders delivered a framed plexiglass structure Friday along with a supply of face masks, which have been in short supply across the country since the start of the coronavirus outbreak.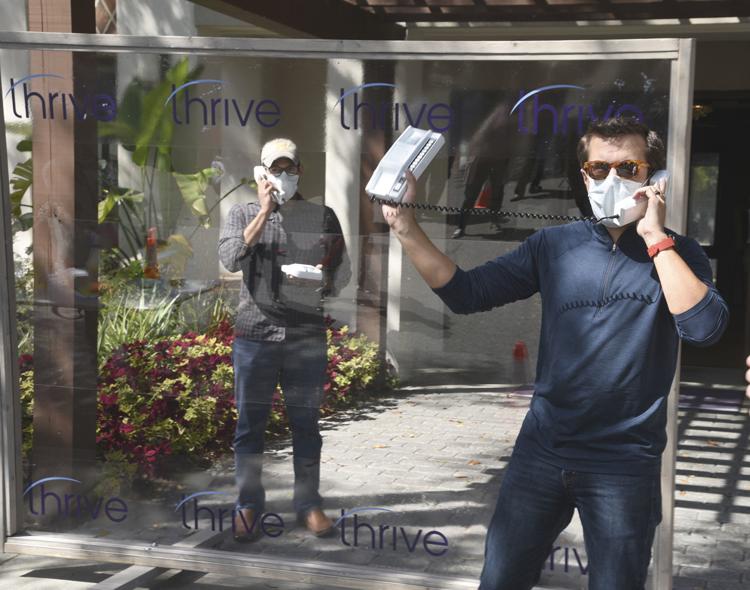 The founder of Thrive, Jeramy Ragsdale, in an effort to bring some needed joy to the Thrive communities, designed and constructed the plexiglass structures with the help of his father. They built 10 and loaded them onto a box truck, and on Friday Ragsalde spent the day making deliveries to Thrive's communities, alongside the company's president Les Strech and CFO Sebby Kannukkaden.
Members of Thrive's staff on St. Simons met the company leaders outside for the delivery. Everyone wore face masks and stood several feet apart.
The staff applauded both the delivery of masks and the unveiling of the plexiglass structure meant to benefit the residents.
"We have a company that supports us, pulls for us when we need things," said Tatjana Harper, president of the property on St. Simons. "They're there for us, literally 24/7."
Thrive's residents currently have to eat their meals in their rooms and cannot leave the site. They also cannot congregate in large groups to socialize, Harper said.
The staff, though, is working hard to keep the residents' spirits high during this difficult time.
"It's just those little touches," she said. "We've done residents' hair — I've washed hair, done a box of color, we've done nails. Anything to help them feel more cared for and loved. A lot of times, it's the family members that would do that."
Family visits have been limited for the past month, though. The plexiglass structures are meant to help both staff and residents experience the socialization Thrive communities are accustomed to, Ragsdale said.
That's part of the reason the company's leadership team wanted to make the deliveries themselves, he said.
"The best thing is just seeing you guys," Ragsdale said. "We're used to seeing them very often, and it's just hard that we're all kind of cooped up."