The Coastal Outreach Soccer program recently marked an important moment of success for two players.
Allana and Allen Antah gained spots this year in the Olympic Development Program. They are the first two Coastal Outreach Soccer players to have earned this achievement.
The Olympic Development Program (ODP) was created by U.S. Soccer to identify national team players at the youth level and to provide development opportunities for potential national team players.
"In order for a player to qualify to try out, they have to be part of a club that's part of the state association," said Shawn Williams, executive director and founder of COS, a nonprofit that focuses on soccer and academic mentoring programs for underserved Glynn County youth. "So Coastal Outreach Soccer is an affiliate member of Georgia Soccer Association, which makes our players eligible to try out for ODP."
Georgia's players compete against teams in other states and participate in a summer region camp with players from numerous states. Allana and Allen, who are twins, were both selected to represent the state of Georgia at a sub-regional event in Dallas, Texas, in June.
The process of trying out and getting on the team was different this year because of the pandemic.
"We've been talking with the ODP director for the last two years about getting our players an opportunity to try out, so we gain that exposure," Williams said. "Their path has been club then they had an opportunity to do the district training centers. We would go there once a week, and then out of that we had a regional event for the state of Georgia."
Their performance at that event led to the opportunity to try out for the ODP program. They've since been traveling to Atlanta on alternating weekends this year to play with the team.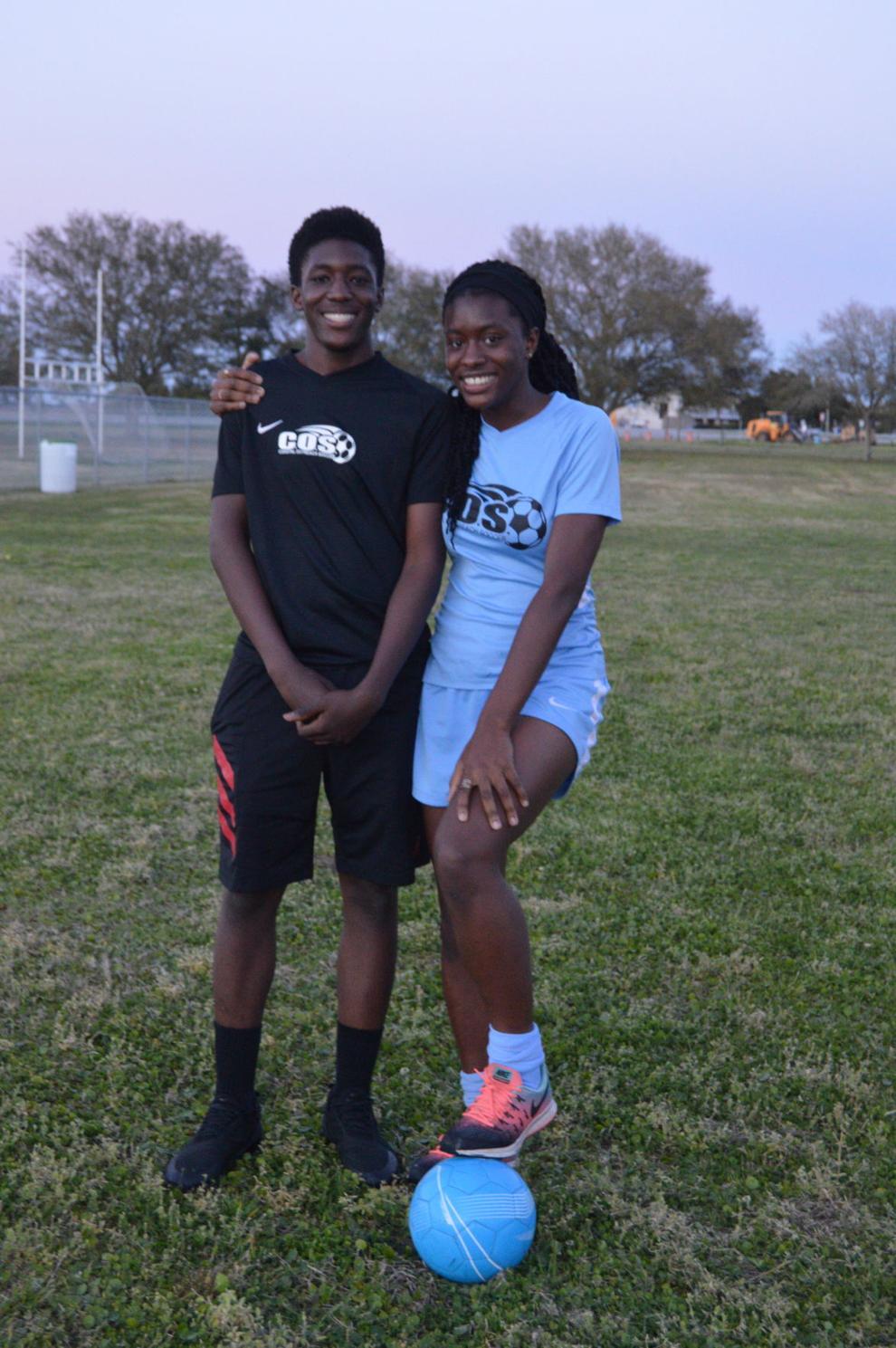 Allana and Allen have been playing soccer since they were maybe 5 years old, said their mom, Rosemary Burns. She's also seen the COS program develop them both as players and as well-rounded students.
"It's all about discipline and doing what you're supposed to do and practice, practice, practice," Burns said. "Without that, they couldn't even be where they are."
Allana said she quickly felt comfortable on the field with her ODP teammates. She hopes to go further and eventually play at the college and professional levels.
"I want people to start looking at me, like colleges," she said. "I want to play professionally, and you have to start early."
Allen also said he's hoping to gain new exposure through the ODP program.
Both have been able so far to showcase on the field the skills they've cultivated over many years of playing, Williams said.
"With Allen, one of the things that I felt that stuck out immediately was his level of comfort out on the field with the group that he was trying out with," he said. "There was approximately 35 boys in his age group, and I felt he walked out on the field and his ability and skill level immediately showed."
Allana and Allen also play for their high school soccer teams and are involved in other school activities.
"I'm very proud of this accomplishment," Williams said. "It also speaks to their dedication, their commitment, whether that is getting up early in the morning and going out and training with a ball or running a mile each day. You see the work that each one of them have put in, and this is the fruit of that labor that they have dedicated themselves to this sport and dedicated themselves to their own development as well."
This accomplishment also helps other COS players see what's possible, Williams said.
"It is serving as a motivator not only for their teammates as well but also to our parents," he said. "… We're doing our best as an organization to be able to create opportunities for our players, so that they can showcase their talent."
Several COS alumni have had the skills and dedication to the sport to qualify for the ODP program, but COS has grown over the years to have the resources now to support its players to make it to this point, Williams said. Community support has played a big role in that, he said.
"We had players that were very talented, but we didn't have the resources that it would take to say 'OK, Friday and Sunday we're in Atlanta,'" Williams said. "It is kind of this great thing that's just come together at the right time. We have the resources, and we have two players that are very dedicated to the game."