During one of his final days at Coastal Georgia Area Community Action Authority, Zerik Samples had a request that should surprise no one who has worked with him.
Samples, who has served as Community Action's chief development officer since 2016, will soon leave the position for a new job opportunity in Savannah. As he's transitioned out of the job, he was asked to return his work computer, keys and other items.
But even as his job was winding down, Samples asked a favor — could he keep the work equipment a little longer? He still had work to do here.
"He tells the HR assistant — 'Wait a minute, wait a minute. I'm still working on some things,'" recalled Tres Hamilton, CEO of Community Action.
She shared this story Thursday at a send-off celebration hosted for Samples at the Rise Risley campus.
"We've still got work to do," Samples replied to her, laughing along with others in the audience.
The event brought together Coastal Georgia residents who have worked or spent time with Samples in the many roles he's served since coming to Glynn County.
He's been heavily involved not only through his role as a Community Action leader but also in his church, in local theater productions, in the St. Simons Rotary Club and numerous other nonprofits, organizations and events.
"He's so involved in the community," said Becca Randall, director of development and community relations for Habitat for Humanity of Glynn. "I met him through a Family Connection meeting probably three years ago, and I've just seen him at every event. He's just so deeply engaged and really cares about his community. His heart is totally in what he does."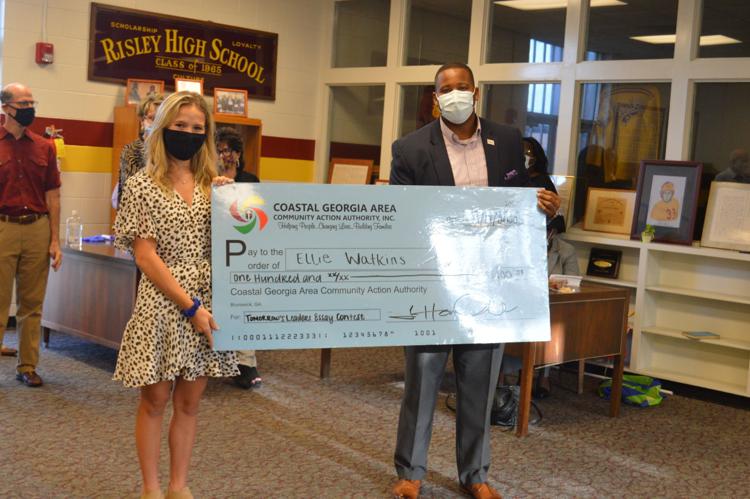 Samples also has been a lead organizer of the Rise Risley project and helped launch the idea and the first stages of the initiative, which aims to create a community resource center on the historic Risley campus in Brunswick that will serve local families in numerous ways.
And in the invitation for the send-off Thursday, Samples asked that any gifts to him be made into contributions to Rise Risley.
"If I could be a blessing to Rise Risley and Coastal Community Action, I wanted that opportunity," Samples said. "So all the gifts that you guys have given — some of you have given already — is going to go right back to Community Action, which is the reason why we're here now in the Rise Risley center."
The project, he said, is going to make a significant impact in the community.
"We're going to be able to pull together services for people from the cradle to the grave, from the early childhood education center to individuals who just want to get that next degree, for people who want to complete their GED program, for the homeless population, for individuals interested in the arts," Samples said.
During the celebration, there was booming laughter that often transitioned into a room of teary eyes as memories, compliments and tributes were shared by his colleagues, mentors, mentees and his parents.
"It's hard to say something bad about this guy because he's just so good and talented, and he's just involved in a lot of stuff," said Brunswick Mayor Cornell Harvey. "He came to the Coastal Area Action Authority, and he's just lifted us up completely and we've been running ever since."
Samples' nonstop energy and commitment has touched a lot of important work in this area, Harvey said, and the community will miss him.
"Man, you made the community better than it's ever been," he said. "I'm just glad to have been the mayor while you were here."
Keith Reddings, state representative for Omega Psi Phi, an intercollegiate, international, historically African American Greek-letter fraternity, joked that he's almost glad to see Samples leave.
"For years, on my way to being state rep, I was the face of Omega in Glynn County," Reddings said. "If you heard Omega, you pretty much thought Keith Reddings. This young man comes along … He's the new face of Omega Psi Phi. So now, he's going to Savannah, and I can get my face back."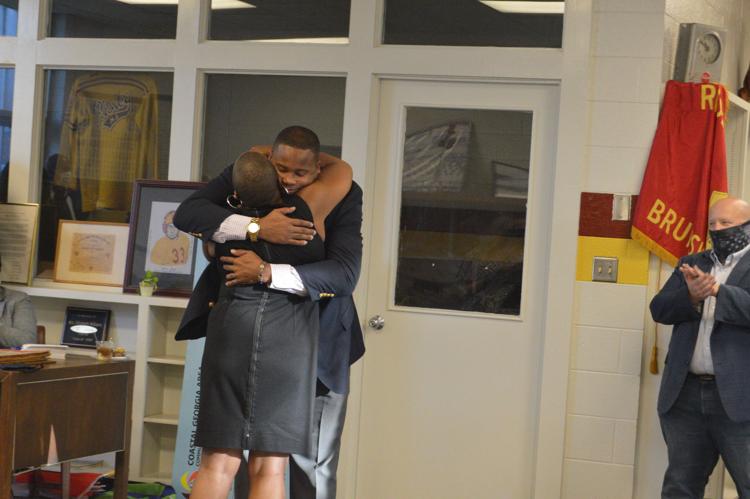 Samples was also the first to serve as community development officer for Community Action. The organization launched several years ago a national search to fill the position, Hamilton said, hoping to find someone who could raise money that would support Community Action's work and help them rely less on only federal and state money.
"Lo and behold, I never thought I'd find him in McIntosh County," she said.
Since Samples joined her team, Hamilton said, she has had a standing Monday meeting with him at 9 a.m. At first, those meetings were for her to provide guidance. Later, they became a time to share ideas and plans, of which Samples had many.
One was to create an annual scholarship for local youth. Because of COVID-19 this year, that scholarship presentation was canceled, so Samples presented the check Thursday to Ellie Watkins, a local high school student.
Watkins in turn donated the $100 to the Rise Risley initiative, and her contribution inspired Samples to ask that all goodbye gifts to him be used for the same purpose.
"Community Action is in his blood, and everybody knows his passion for what we do, his passion for the community and the fact that he wants to make sure that we are making this a better place for our families and our children," Hamilton said.
Samples built a solid foundation for Community Action during his time there, Hamilton said, and he made sure the community was involved in that work.
"We are going to desperately miss you," she said.