The portable building in Howard Coffin Park serves many purposes for the young soccer players who spend time there.
The building is an academic center for Coastal Outreach Soccer, a local after-school soccer and mentoring program. Some evenings, its interior two rooms transform into a robotics or computer programming workshop. Other nights, the space is filled with discussions among members of the COS book club. And for many youth in the program, it's consistently a home.
Shawn Williams, executive director of Coastal Outreach Soccer, worked with numerous community partners to make that space available for the program's participants. COS, founded nearly 16 years ago, has aimed since its inception to meet the needs of its students and to teach them more than how to play soccer.
When College of Coastal Georgia offered several years ago to teach a STEM workshop to the players, Williams knew those lessons couldn't be offered in the bleachers at Howard Coffin Park. So he arranged to get a portable building donated, so the students could have a space to focus on academics.
"We had all these ideas, for all these things we can do if we had a building," Williams said Monday.
Williams will this week begin putting plans in motion to expand the program's facilities at Howard Coffin Park. He hopes to add a third, smaller field for younger players, improve the two large soccer fields and build a new facility for the academic programs offered by COS.
The plan is to expand upon what the program already offers. The new academic center will have multiple classrooms and a dedicated STEM and robotics lab.
"We're not looking to make drastic changes to how the park currently looks," Williams said.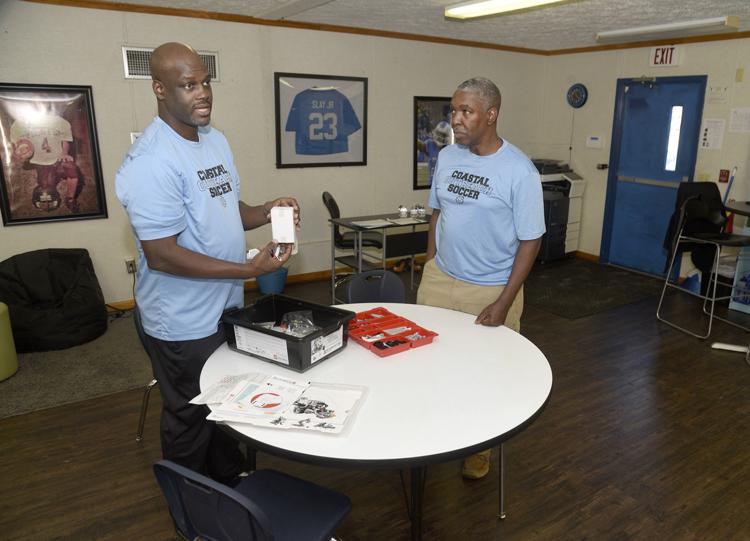 Williams will give a presentation Wednesday evening to the Brunswick City Commission, to tell the commissioners about his plans for the park and seek their support. Coastal Outreach Soccer plans to raise money for the expansion.
Academic improvement and support is a core component of the Coastal Outreach Soccer program, Williams said.
"Our mission from the beginning has been centered around soccer, academics and service to the community and service to this club, and we're looking to continue that mission but to be able to plan for our future while doing that," he said.
The program hopes to be accessible to more youth in the area. In 2019, the program served 204 youth ages 4 to 18.
This August, Coastal Outreach Soccer will mark its 16th year at Howard Coffin Park. The program has partnered with the city throughout that time to maintain the park, Williams said. And from the beginning, everyone's goal has been to serve local youth, he said.
The Glynn County Board of Education donated the portable building that currently houses the academic center to COS in 2017.
That building has quickly become a home for many of the players. Nearly every evening, students are inside working on school work, taking part in STEM activities and spending time with their friends. But the program hopes to offer a larger space that can serve more students.
"We know that with an expansion of the facility, we have the ability to serve more," Williams said. "… We want a kid to be fully engaged in all of our services, everything that we're offering. So if we have book club, we want every kid that can to participate in book club. We want every kid that we can to do STEM and robotics. We want every kid that needs academic assistance to be able to get that academic assistance."
The program's academic requirements outweigh the requirements on the soccer field, Williams said.
"Our emphasis is for them to gain a love for seeking and gaining knowledge," he said. "… That is vital to what we're doing, in order for us to continue to have that 100 percent graduation rate, for us to continue to send kids to the College of Coastal Georgia an to Coastal Pines Technical College to do dual enrollment."
Coastal Outreach Soccer hopes to prepare its participants to leave the program and enroll in college, enlist in the military or join the local workforce, Williams said. To make that possible, though, the program has to be able to serve all students who wish to sign up.
"We understand it starts with us saying, 'Hey the academics are just as, if not more, important to us than how you're performing on the soccer field,'" Williams said. "We don't have a tryout for our travel team … We're saying that if a kid needs us, let us be there for that child."
The program needs to expand, to meet the many different needs of its participants, he said.
"We understand the role that soccer plays for us, but we understand the roles that academics and service play for us as well," Williams said. "And all three of them together combine to be who we are."