Erin Ross, a special education teacher at Satilla Marsh Elementary, will not sugarcoat the truth. This school year has had its challenges.
But as Ross, who teaches kindergarten and first-graders and spends much of her time at school bouncing between classrooms, sat in the waiting area Saturday after receiving her single dose of the Johnson & Johnson COVID-19 vaccine, she felt optimism that all of those challenges will not linger into next school year.
Many had their own reasons to feel positive Friday and Saturday at two COVID-19 vaccine clinics organized exclusively for staff members of Glynn County Schools following the recent announcement by Gov. Brian Kemp that the state's K-12 education staff is eligible to receive the vaccine. Eligibility began March 8.
Glynn County Schools partnered with the public health department to host a clinic Friday afternoon at the department's Brunswick site. A second clinic was held Saturday in Brunswick High's gym.
"I'm very appreciative that they set this up for us," Ross said. "I don't know what other kind of institution would do this for their employees. I especially want to thank the nurses for coming in on a day off to do this for us."
Valerie Whitehead, the school system's executive director of strategy and innovation, who serves as the main liaison with the health department, estimated around 500 vaccine appointments had been made by school personnel during the two events.
"We had a lot show up early (Saturday) morning," she said, noting the line extended out the door.
A space typically used for sporting events and graduation ceremonies, the gym was transformed into a makeshift, very spaced out vaccine clinic.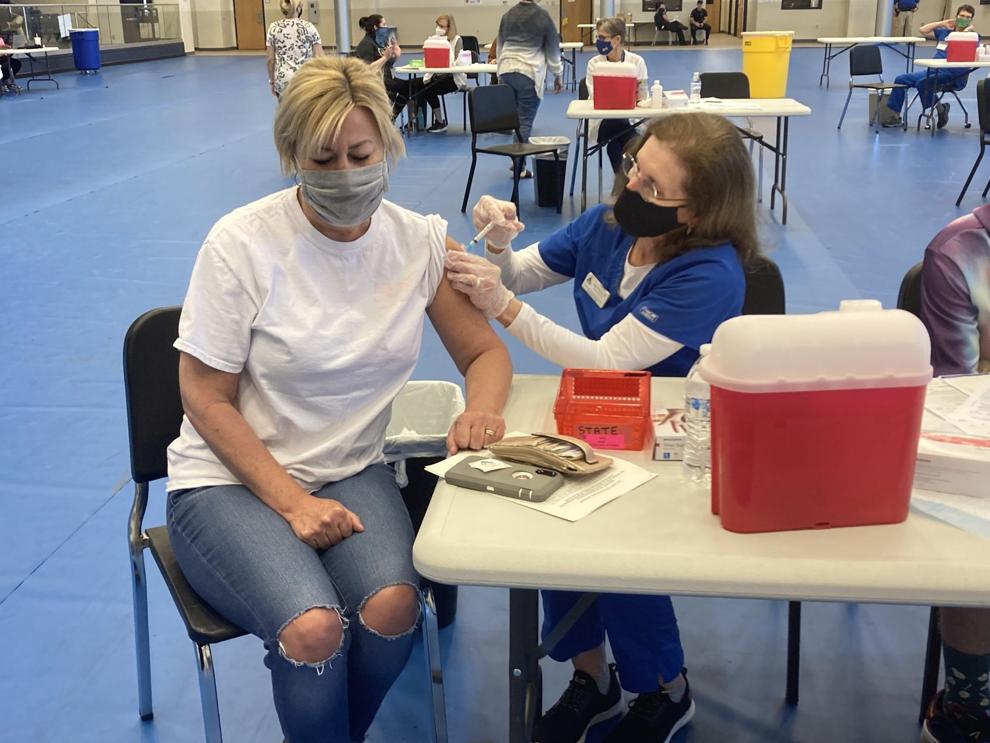 School nurses, trained to give the vaccine, manned tables set far apart across the blue mat floor. They greeted each recipient, asked them to roll up their sleeves and administered the shot in just minutes.
Each person was asked to wait 15 minutes in the gym in case of a potential negative reaction to the shot.
Ross said she opted to receive the vaccine to protect herself and others.
"We work in a pretty big school with a lot of children and a lot of adults, and you never know who has health issues," she said. "You want to make sure that you're safe and they're safe. And we always put children first. This is just part of what we do. Anybody that works in the education field, we always put our kids first."
At the health department Friday, the waiting room was filled with district staff, most of whom during the earliest appointments were non-instructional staff like district office personnel, bus drivers, nutrition workers and others. The appointments were prioritized for non-teachers so that instructional staff could avoid missing class time with students.
Among the first appointments Friday was that of superintendent Scott Spence. After receiving his shot and while waiting the prescribed time in a seat in the hallway, Spence said he was impressed by the efficiency and collaboration of the entire effort.
"I certainly think anytime we can work with the state government, the local department of public health and the school system and all work together, which is what we're seeing right here, that's a good thing," he said. "You can see our nurses working with their nurses and our administrators working with their administrators."
Glynn County Fire and Rescue workers and EMTs were also on site both days.
Health care students at the Golden Isles College and Career Academy were given a chance to volunteer during the clinics, during which they signed people in upon arrival, checked temperatures and served as scribes, filling out information cards for each person who received a vaccine.
Madison Grooms, a senior, volunteered both Friday and Saturday because she wanted some real-world health care experience.
"It gives you an insight on what to expect once you go into the medical field or into nursing," she said.
The completion of both vaccine clinics is another reason to be optimistic that the district will finish this school year on a strong note, Whitehead said.
"I'm very thankful for the community's support of the protocols and things that we've had in place for our students to be back in school," she said. "… Our staff has risen to the occasion in so many levels. It's just been remarkable. It has truly been a team effort across the entire system. Every position that I can think of has played a role."
Glynn County Schools has been open for in-person instruction since the beginning of the school year after offering only remote learning from March to May 2020 at the onset of the pandemic.
It's been a tough year, Ross said. She hopes next school year will be easier.
"A lot of us veteran teachers have had to learn things all over again on how to do things," she said. "It's also been a year of people coming together … We're a big family at Satilla Marsh, and we genuinely care for each other."