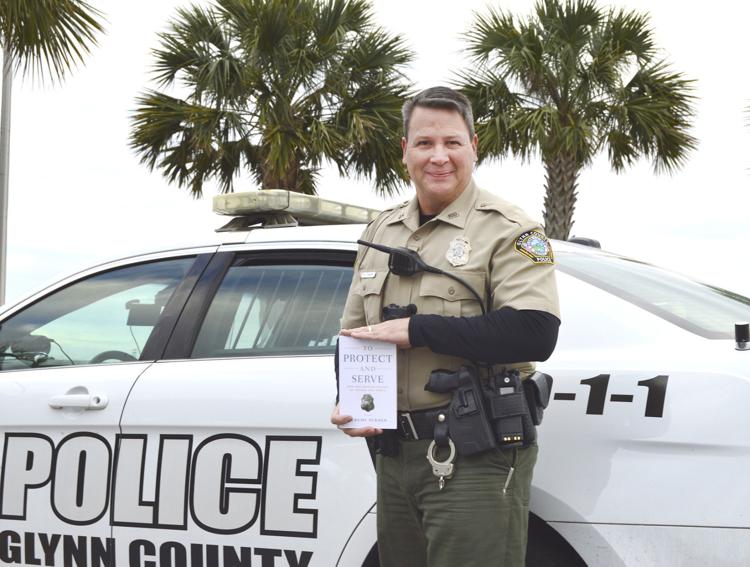 When Jeremy Turner decided to become a cop, bittersweet inspiration infused the law enforcement profession's credo to protect and to serve.
U.S. Marine veteran John Turner had stopped to change a single mom's flat tire along Metro Atlanta's Interstate 985 on July 17, 1998. John squatted behind the rear driver's side tire hub of the woman's car with his back to busy traffic — and to the doped-out driver who struck and killed him.
Robert Turner was working on a needy family's home in Atlanta's West End as part of his faith-based Mission America initiative in November of that same year. An angry young man with a gun confronted Robert outside of the home, shooting and killing him over a watch and a pair of rings.
And so, in a span of four months Jeremy Turner lost his brother, John, and his father, Robert — two selfless men who died while protecting and serving others. Over the next several years, Turner would go from owner of a pizza joint to big city police detective to a man on a mission to serve the underserved.
These days, Jeremy Turner is a patrol officer with the Glynn County Police Department, director of a nonprofit outreach and author of a new book that chronicles the arduous journey that took him down this path in life. In "To Protect and Serve: How One Officer Sought to Change the World," gritty crime scenes and struggles with personal adversity serve as the backdrop for his awakening to a higher calling.
"I just felt it was a story that needed to be told," said Turner, 48, of the book, which has been about four years in the making. "My father's legacy and my brother's example have been a big influence on what I've tried to accomplish. And I felt like maybe my story could help others out, to let them see that there is a higher power at work out there. For those dealing with the loss of loved ones, death, divorce and other struggles, maybe this book could provide some healing."
To Protect and Serve is presently available on Amazon and could be available in local book stores soon. His nonprofit organization, Contribute2America, has touched the lives of more than 100,000 folks from Atlanta to Brunswick and generated half a million pounds of food for the hungry.
"I hope this book will spread more awareness about Contribute2America," said Turner, who lives on St. Simons Island with his wife, Nicol, and their two daughters, Mary Grace, 16, and Jamie Lee, 14. "I'm just a small nonprofit but if we all work together, we can address a lot of ills in society."
Turner grew up in the Atlanta area while spending time in his father's north Georgia hometown of Cleveland, never imagining he would one day wear a badge. But he looked up to big brother John for his commitment to ideals and to his father for the results he produced through his faith in God.
Robert was a lineman for Georgia Power who went on to obtain a law degree, though he never actually practiced law. However, the man did act on the calling he felt to serve God through the service of others. His nonprofit Mission America worked to feed and house families in need.
John left the University of Georgia during his sophomore year in 1989, choosing instead to serve his country as a U.S. Marine. John saw combat in the Middle East during the Gulf War against Iraq in the early 90s before returning home and earning autoCAD certification on the G.I. Bill. John was heading home from work on that summer afternoon in 1998 when he encountered the woman and her small daughter in distress on the side of I-985.
Jeremy would later learn that his brother had warned the mother to step farther away from the vehicle. It was not a safe place to be for her or the little girl, John warned. The man who struck and killed John was high on cocaine and meth. He would serve seven years in prison.
It could have been even more tragic.
"Had he not encouraged her to move, there very likely could have been three dead people on the side of the road that day," Turner writes in To Protect and Serve.
Robert Turner's calling to serve had sent him on pilgrimages as far away as Peru before he decided to help folks closer to home by forming the nonprofit Mission America. On that cool day in November of '98, he had returned to his truck for nails when a gunman approached him on Atlanta's Cleveland Avenue. Police found the killer by tracking down the pawnshop sales of the rings and watch he stole after shooting Robert Turner. The man is presently serving life in prison.
"But what I wouldn't give for the man to be free and my father to still be alive," Turner writes.
After graduating from the University of Georgia, Turner dabbled in sales and owned pizza restaurants in Atlanta. His first marriage collapsed soon after his father's death, and he struggled to find time for his young daughter, Hannah. Nothing thus far in his life would suggest a career in law enforcement.
But in 2001, the newly married Turner found himself going through the grueling bootcamp of the DeKalb County Police Department. "They were preparing us for the life-and-death battles we'd soon be facing on our own on the streets of Atlanta," Turner writes.
The next several chapters of Turner's book contain enough police action and crime drama to fill a movie script: fisticuffs and falling down stairs with suspects in his grasp; bullets flying, one of which pierced the windshield of his patrol car; gruesome murders and the takedown of the dangerous people who did the killings.
Turner progressed from patrol officer to a detective in major felonies to the community policing unit within the DeKalb police force. Early on, veteran officers warned Turner not to become emotionally invested in those caught in crime's crosshairs. He learned to be streetwise. He learned to be tough. But Turner never learned how not to care.
"I think we've always had this mentality within the police circles that all we do is make arrests," Turner said. "We've got the protect down pretty good, but sometimes I think we've forgotten about the serving part."
His quest to serve led him beneath interstate overpasses, bridges and other realms of Atlanta's underbelly where the city's burgeoning homeless community suffered in silence and neglect. These folks were veterans, like his brother. They were children, like his three daughters. Folks with dreams, like his father.
"I began to deal with homeless on the issues they were going through," Turner said. "They're human beings. Just go down there and talk to them, listen them. I just felt like there was more I could be doing for these people."
His desire to do more led to the formation of Contribute2America in 2008. His efforts with the organization earned him the DeKalb County's CEO Award in 2013. The group's outreach efforts include feeding the homeless and needy and providing basic medical care, among other services.
"I kind of piggy-backed on what my dad was doing," Turner said. "I looked at what he was doing and figured we could do the same thing. I looked on his legacy of doing something good, and have tried to follow in his footsteps."
Turner and wife Nicol discovered the Golden Isles by chance on a weekend getaway. Like many of us, the couple fell in love with the place. They live on St. Simons Island with their two daughters; Turner's oldest daughter is now in college. He joined the Glynn County Police Department in 2015. Contribute2America works locally with several organizations, including Safe Harbor, The Well and the Salvation Army in downtown Brunswick.
"I think law enforcement is changing and I want to be a part of that," Turner said. "We need to spend more time serving, not just protecting. My faith continues to grow and it's big part of what I try to do today."