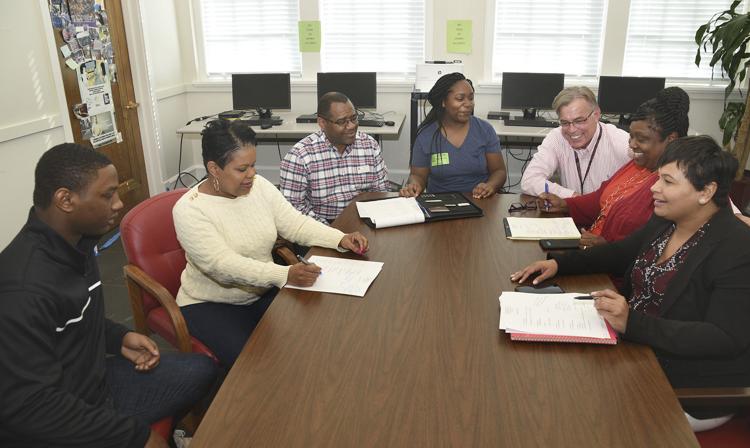 Jordan McClinton and Sabrina Luckey are on the cusp of making one of the most significant decisions of their lives.
Both are seniors in high school with just a few months left before they receive their diplomas and embark on the next part of their journeys. And because they're both high-performing students who have schedules packed with extracurricular activities, they've got to decide which of several college offers to accept.
At the top of the list for both, though, is a Historically Black College and University, or HBCU.
"I haven't chosen a school yet, but it's between Georgia Tech and North Carolina A&T," said McClinton, a senior at Glynn Academy. "I plan on majoring in computer engineering."
Luckey earned acceptance into several HBCUs, she said, and she's yet to decide where to go.
"I would like to major in biology, in hopes of attending medical school to become a forensic pathologist," said Luckey, a Brunswick High senior.
McClinton and Luckey became familiar with the many HBCU options in Georgia and around the country by attending the annual HBCU Fair held in Glynn County.
The seventh annual fair will take place Feb. 22 from 9 a.m. to noon in the new gym at Glynn Academy.
The event will include HBCU recruiters from schools in states including Georgia, Florida, Alabama, Texas, Louisiana and more. The HBCU representatives will be able to discuss opportunities for students to apply.
Nearly 400 students typically attend the fair, from Glynn and surrounding counties.
The event began seven years ago, when Aundra Vaughn, who is now a senior counselor at Glynn Academy, recognized a need to increase local students' awareness about HBCU opportunities.
"At that time, I was a counselor at the Career Academy," said Vaughn, one of the original organizers of the event. "When I started talking with students about where were they going to college, they just had a mindset that because they were at the Career Academy they weren't going to college."
She said students need to keep all options open, including college, technical school or apprenticeship opportunities.
"College is not a career," Vaughn said. "It's a point on the journey."
Many students seemed to be unaware of postsecondary options that exist outside of this area, Vaughn said.
"Students who live in big cities like Atlanta, they have great, huge fairs all the time. We're on the coast of Georgia," she said. "… This is a way that we can provide that information and access. It's on a smaller scale, but our students also have that opportunity to get the information from these competitive colleges."
There has been a nationwide push recently to energize students to apply to HBCUs, Vaughn said.
"They have such a unique and storied history from the beginning," she said.
School buses will bring students from Brunswick High and local middle schools to the event, said Marty Simmons, transportation director for Glynn County Schools.
The Fourteen Black Men of Glynn has partnered with Glynn County Schools to host the fair since the event's inception. This year, though, the Alpha Kappa Alpha, Inc., sorority's Zeta Iota Omega chapter has come on as an official partner as well.
"Each year, we keep adding and growing," Vaughn said. "And so the different fraternities and sororities and service organization are also a big part."
Brandi Whitfield, an HBCU graduate and member of the sorority, said she hopes to see the fair continue to thrive.
"We were so excited about the opportunity to assist and to help the program grow and to really expose as many individuals and as many students as possible to the HBCU experience," she said.
The 14 Black Men also offers three scholarships each year to students attending HBCUs. Applicants for the scholarships must attend the HBCU Fair and will be interviewed onsite.
Local alumni to HBCUs typically attend the event and often serve as mentors to the students at the fair. Military recruiters will also be there.
"They also talk not only about possible enlistment but mainly about the college portion of it," Vaughn said.
Additional community partners have come on board this year. Those include Rich Products and King & Prince Seafood.
"It used to be a school thing, but it is really going to become a community event," Vaughn said.
Recruiters will often accept applications onsite, so students are asked to bring transcripts and any other information they may need to apply.
Some recruiters will also offer admission and scholarships onsite, Vaughn said.
The event is open to all students. Those who recently graduated high school and are interested in exploring higher education opportunities can also attend the fair. Non-students need to sign in at Glynn Academy's front office.
McClinton and Luckey, who are both now considering enrollment at HBCUs, encouraged others to attend the fair and expand their awareness about these opportunities. These schools offer a unique family atmosphere that isn't found at many colleges or universities, they said, and have strong, successful alumni bases.
"The HBCUs, they have a completely different atmosphere than most universities," McClinton said. "When you go there, you know you're going to be taken care of. You know that people truly do care about you."