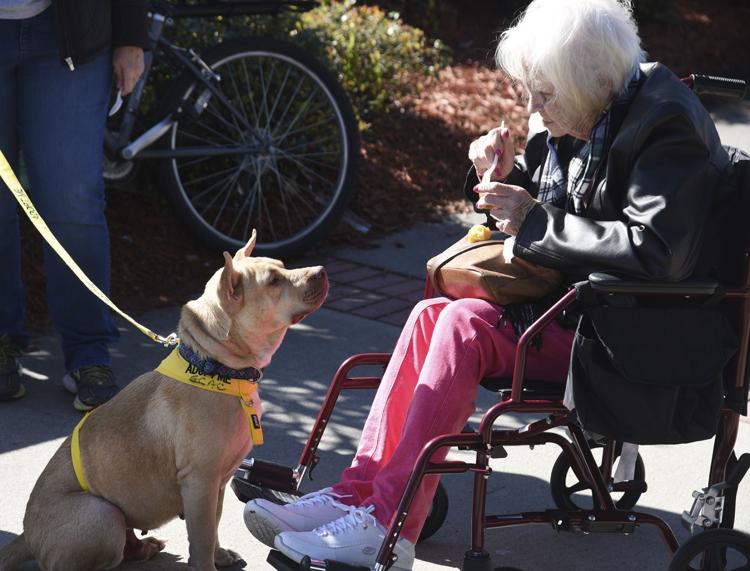 Starting this month, county residents can take shelter dogs on "field trips" through a new program offered by Glynn County Animal Control.
Upon completing certain requirements, residents can volunteers to "sign out" animals with them for a few hours or a few days, said Animal Control Manager Tiffani Hill. Whether taking them to the beach, on a morning jog or afternoon walk, Hill said the opportunity is healthy for both parties.
"We have been kind of beta testing it for the past six months, but it's only been one dog here or there and only staff members doing it," Hill said. "For years, other shelters around the country have been successful having programs like this."
It's not something just anyone can do, however. The first step is completing animal control's volunteer training course.
"They come through our new volunteer training, and fill out our foster paperwork — it's considered a foster opportunity. They have to fill out the paperwork, and then they can start checking dogs out," Hill said.
Once a volunteer makes it through the training course, an officer will check the person's home to make sure it meets the U.S. Department Of Agriculture's standards.
They're instructed on the protocol for handling dogs in different, public locations before taking them. And if they meet anyone interested in adopting in the wild, they refer the interested person to animal control.
From there, signing out dogs is very straightforward, Hill said. Volunteers sign out dogs, and animal control staff keep a log of volunteers and the dogs they have checked out.
"They just need to let us know at least a day in advance what they're planning to do so we can match them with a dog that will be successful in that situation," Hill said.
The program has actually helped boost adoptions. Animal control requires volunteers to walk the dogs with special collars and leashes to indicate they are shelter pets up for adoption, she said, which attracts potential adopters.
"We've already had four adopted just from them being out in the community," Hill said. "We've had two success adopts for dogs who have gone to the Pack Canine Studio on the island … They check out dogs to take to their facility, and they've helped us place two dogs."
While animal control doesn't have any specific requirements or prohibitions on where volunteers can take the dogs, Hill said they usually have something in mind before they check them out.
"We haven't really set a time limit. At this point, people have taken them home for one or two nights. One time it turned into a long-term foster situation and they were adopted by a friend," Hill said. "It's pretty much anything within reason. They sign off on an agreement that they can't let a dog off leash when they're out of their home, and they have to follow all county ordinances for having a dog and they have to keep the dog healthy and happy."
No issues have arisen as of yet, she said, but the program has earned some criticism from members of the public. Hill explained that, on the one hand, it seems like a bad idea to let dogs get attached to someone before taking them back to the shelter.
"Some say it's like abandoning the dog a second time. While there are dogs that attach very quickly, there's no way to prevent them from getting attached. They get attached to us at the shelter. The only way to keep them from being attached, because they're built to get attached, is to keep them away from any contact with people," Hill said.
In Hill's opinion, the benefits outweigh the potential negatives, however.
It's a program that's proven to be successful in other communities, Hill said, such as the Oregon Humane Society and other organizations in Utah and Hawaii, among others.
In fact, Hill plans to eventually expand the program to allow visitors and vacationers to take the volunteer course and check out dogs during their stay.
"My hope is to maybe take this to the next step. The Golden Isles is a vacation destination. My hope is when summer vacation starts, I hope to be able to offer it as a vacation volunteer opportunity," Hill said. "Vacationers can take a dog for the day, or overnight."
"They are very successful programs, they're great enrichment for the dogs, the volunteers have a good time doing it and it increased our visibility in the community," Hill said. "… We're not reinventing the wheel here."
The shelter is often near or at capacity, which was one of the driving factors behind starting up the new program, Hill said. More dogs will be up for adoption soon, as she plans to lift an ongoing ringworm quarantine by the end of this week.
"All but one of the 13 dogs in ringworm quarantine have been release," Hill said. "The last dog is expected to be out this time next week, we just need one more negative test."
For more information on volunteering with animal control or the check-out program, call 912-554-7500 or visit the shelter at 4765 U.S. Highway 17 in Brunswick.