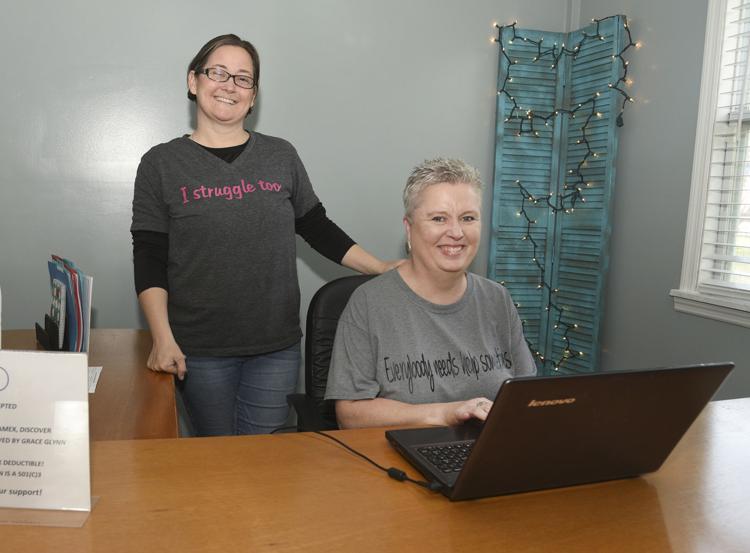 Hope makes perseverance possible, even in the most difficult of circumstances.
Maria Gamble and Donna Howard, the founders of Saved By Grace, a nonprofit that helps the local homeless population, find themselves constantly in awe at the reserves of strength and tenacity they witness in their clients.
"These people are survivors," Howard said. "… They just continue. They continue moving forward, and they don't ever seem to give up."
Even the strongest, though, cannot keep going without some help. Since its founding in 2016, Saved By Grace has worked to meet the daily needs of the homeless who live outside in the woods, in cars and in motels. Saved By Grace provides food, clothes, furniture and whatever else a client needs.
A new initiative aims to take that assistance a step further and hopefully lift people out of homelessness permanently.
Saved By Grace plans to open its "Center of Hope" in May, where Howard and Gamble will provide a wide range of one-on-one services to help people in the job search process. They'll help create résumé, offer job skill assessments, practice mock interviews and aid with applications.
The center, located at 6549 New Jesup Hwy. in Brunswick, will be open for several hours on two Saturdays a month, and appointments will be required.
The goal of the center is to help homeless individuals move from a survival-first lifestyle into steady work that will ultimately change their lives and offer them hope for a better future.
"For the last two and a half years, we've just been mainly about providing food, clothes, just the basic necessities to get people by," Gamble said. "But going into this year and going forward, we actually want to be able to improve someone's quality of life by helping them find employment."
First client
Saved By Grace unexpectedly found its first client for the Center of Hope several weeks before the center could open.
A man called the nonprofit seeking a place to stay and assistance finding a job. A high school dropout, he had little confidence in his ability to even apply for jobs. And while he didn't feel he deserved any help, he nonetheless needed someone to guide him.
"All week he was saying, 'There's more people that need your help worse than me,'" Howard said. "He never felt like he personally deserved anything that we gave him."
But from the moment Howard and Gamble met this man, they could plainly see that he would not give up.
"He asked me, 'Where are you located?'" Howard said. "I gave him the address. That boy GPS'd it on his phone and was walking, and he was trying to get over here."
The man planned to walk from a location on Hwy. 17 to Saved By Grace's office on New Jesup Highway. When Howard realized he was trying to walk that great distance, she offered to pick him up and bring him to the office.
"I brought him here, and he just basically told me his story," Howard said. "And one of the first things that grabbed my attention … He says, 'I'm not the typical person that most agencies would help.'"
Howard spent a week driving the man around town, picking up job applications, shopping for clothes and the getting documents he needed to apply for jobs.
"He was literally in here every single day," Howard said. "I think we totaled about 10 applications, between paper and online, that he did. Some of them I helped him do, because he didn't comprehend a lot of it. But just every day, he was just pushing, pushing, pushing. And by Friday he was offered two jobs."
He was grateful for their assistance, Howard said, but he never felt worthy of the helping hand.
"We wanted him to know that he mattered, no matter what it took," Howard said.
Surviving
Howard and Gamble meet clients almost every day who overcome challenge after challenge and never give up.
Despite their dire situations and the hardships they face, many hold onto their optimism, Gamble said, and wake up every day ready to face whatever struggle may come their way.
"I think, for a lot of our people, they all struggle but somehow they all try to make the best of their situation," Gamble said.
Many who live in motels are committing a large portion of their paychecks to the weekly room bill. They're cramming multiple family members and all their possessions into small spaces, walking miles to work sometimes because they do not have transportation and worrying every day if they'll have enough money to get by.
Yet, they endure.
"They're all inspiring," Howard said. "We talk about all the time how if we had to endure the things that they have endured in their childhood or in their past, the things that they've done or the things that they've had to go through, or if we had to sleep under the stars without a roof over our head in the pouring rain, would we survive?"
Through their work, Howard and Gamble have heard many hard stories. They've helped a couple who struggled with mental health issues, severe childhood traumas, addiction and more who nonetheless kept smiling.
"They still continue to struggle, but they do what they have to do to survive," Gamble said.
Saved By Grace helped a single mother who was evicted from local public housing and had to move into a motel room temporarily with her 1-year-old son.
"It was her birthday when she called, and she was crying on the phone, and she needed help," Gamble said. "She needed a place to stay, so I called one of the motels out here."
The woman had no car and relied on others to drive her to work. She received no support from her child's father. But she had hope and a plan.
"She has a plan of action," Gamble said. "When that tax refund comes in, she's already looking for an apartment."
Gamble and Howard look for that kind of drive in their clients. And in the new Center of Hope, they hope to offer practical support that can accompany clients' goals to better their lives.
Center of Hope
Common threads run through the stories of many of Saved By Grace's clients.
Many dropped out of high school. Few have family support in the area. And all fell on some bad luck and hard times.
"Part of their problem is they have no support systems here," Gamble said. "They're just kind of on their own, so we tend to be that support system for some of our people."
Through the new Center of Hope, the nonprofit can also offer aid as clients strive for more stability and for solutions to their struggles.
Gamble and Howard will help clients through the whole job application process. The center offers computer access to fill out job applications, and Gamble and Howard will be able to provide a multitude of services.
Because most applications are offered only online, Gamble said many clients who are homeless or significantly low-income will struggle finding access to a computer.
"They don't have laptops, but they're all operating off of a cracked screen on their phone trying to fill out a job application," Gamble said.
Saved By Grace will help clients prepare for interviews. The nonprofit will also help clients get the documentation and clothing they need before a job interview. The new program is mainly aimed at homeless individuals, many of whom live in local motels.
"We don't know how long each person's gong to take," Gamble said. "Each person's different."
The center will also offer child care, to remove yet another hurtle many low-income and homeless people face during the job search process.
"We'll have snacks, and we'll have toys," Howard said.
A transition from survival mode isn't easy, though, and sometimes requires more time and assistance than all support agencies are able to give.
"Some of these people we've known for a couple of years," Gamble said. "Well, sometimes it takes people a couple of years to say, 'OK, you know what, this life really isn't for me. I'm ready now to make a change.'"
But everyone deserves help, Howard said, and a chance to hope.
"We don't want out people to give up, because their situation is not permanent," Howard said. "Some of them may look at it as a permanent situation, but it's not. It's just a bump in the road, basically. We try to tell them that. This is just a part of your story."
Those wishing to support Saved By Grace can call 912-217-0256, email savinggrace1616@gmail.com or mail donations to P.O. Box 13154, Jekyll Island 31527.