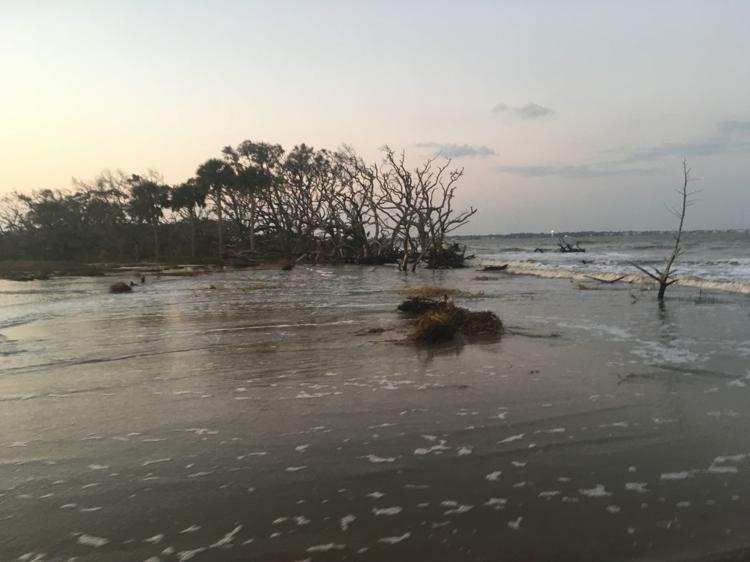 Few ever forget their first time feeling a beach breeze, smelling marsh mud or holding a sea creature.
These are experiences that exist in the backyards of students growing up in the Golden Isles. Yet many will not have these educational opportunities.
One Hundred Miles, an environmental nonprofit, hopes to change that and plans to offer new education programs for students in 2019.
The nonprofit recently hired two new education coordinators, including Stephanie Chewning, who came onboard in August as the nonprofit's coastal education coordinator and will be based out the Brunswick office.
Chewning, who has more than a decade's worth of experience as an environmental educator, said she's taken hundreds of students to the beach for the first time.
"Those experiences, they remember the rest of their lives," she said. "Having a kid touch the marsh mud, put it on their face, smell it, get that sensory overload. They don't forget that."
The new educator coordinators have allowed One Hundred Miles to expand its education programs, said Catherine Ridley, vice president of education and communications for One Hundred Miles.
Young people have a lot to contribute to the conversation, she said, so One Hundred Miles wants to provide them with the opportunities to learn and become local leaders.
The nonprofit plans to launch a Junior Naturalist program in 2019 that will be geared toward elementary school students. The program will provide hands-on education opportunities for students.
"Young people have a voice too," Ridley said. "I think we've seen that all around the country in the last couple of years, how active students of all ages can be and how much they have to contribute to this dialogue."
One Hundred Miles also plans to launch a program for high school students next year called the "Youth Environmental Leaders Program," or YELP, to help students become environmental activists and community leaders.
"That is designed to help motivated students who are conservation-minded and want to make a difference here in their community and learn about our coast," Ridley said.
One Hundred Miles will select a team of students from both Brunswick and Savannah.
"It will be an application process where they are selected to come together with students of different backgrounds and different interests, to develop their leadership skills for the coast," Ridley said.
Students will participate in monthly field programs and will be paired with mentors in the fields they discuss. They'll also have a chance to develop their own service learning projects.
"We'll also help participants connect with elected representatives, understand the legislative process and learn how to advocate for causes they believe," Ridley said. "We're excited to bring together a diverse group of conservation-minded students who are leaders in their communities and grow up to be active stewards of the natural world."
The application will open in April and students will begin the program in the fall.
"The goal is to really encourage students who want to make a difference in conservation," Ridley said.
One Hundred Miles intends to increase education opportunities for adult learners as well next year and will expand in 2019 its Naturalist 101 and Nature and the Arts programs.
"We're expanding both of those programs so that we'll have year-round programming here in the Brunswick office," Ridley said.
Naturalist 101 offers educational programs designed to teach coastal residents about Georgia's coastal habitats and wildlife through hands-on activities and lectures.
Nature and the Arts is a program through which One Hundred Miles partners with local artists who help participants explore nature through artistic mediums.
"Both of those initiatives are geared at getting primarily adult but also family audiences and are engaged in increasing their knowledge about coastal issues and the ways that they can get involved," Ridley said.
Naturalist 101 will return in February with a history- focused program.
"We're having the manager for Fort King George come and talk about the importance of that fort and why it was there and its connection to Darien as a town," Chewning said.
The lectures will be free, but One Hundred Miles staff ask for attendees to RSVP beforehand.
"One of the good problems that we're having, honestly, is that we're outgrowing this space," Ridley said. "That's a great problem to have."
Nature and the Arts will kick off in Brunswick in February with a sweetgrass basket weaving lesson.
Those interested in signing up for the programs can learn more at onehundredmiles.org.
"This is all really geared towards building your encyclopedia of knowledge about our coast, and it all fits together in different ways — whether it's coastal history or culture," Ridley said.
"All of those things are affected by the issues that we're talking about, whether it's climate and sea level rise or offshore drilling. That's all intertwined."