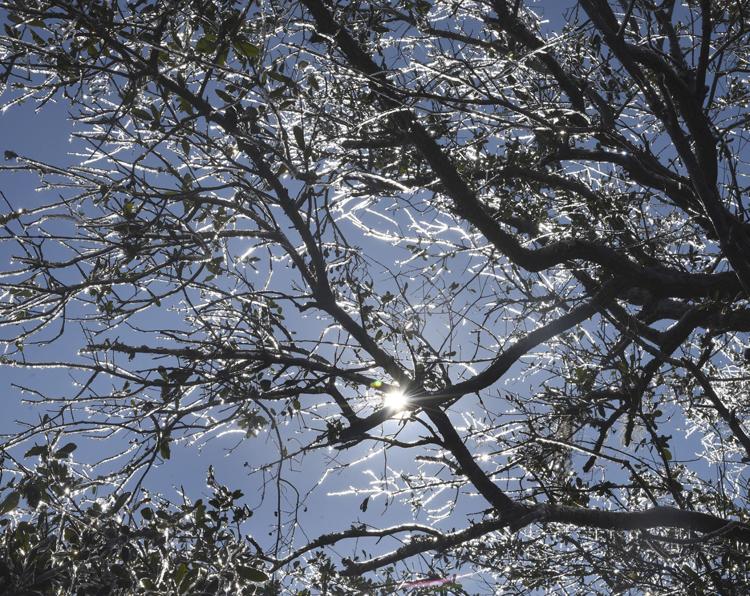 For the first time in two years, the 2018 Atlantic hurricane season spared the Golden Isles from a pummeling of tree-toppling high winds, flooding and mass evacuations.
But that is not to say we were spared a damaging assault from a named storm in 2018. Last year's most significant weather event struck early and arrived on arctic winds — Winter Storm Grayson.
The New Year opened with temps in the low 30s last year, which descended by Jan. 3 to freezing rain, icy roads and power outages to more than 20,000 Georgia Power customers in Glynn, McIntosh and Camden counties. Winter Storm Grayson submerged the north and midwest in sub-freezing temperatures that turned an Iowa water tower into a giant ice cube and earned the monicker "Frozen Winter" by the Weather Channel.
Down here, schools, courts and government offices closed in advance of the approaching storm, as did many businesses. Those who did venture out on the area's ice-coated roads on Jan. 3 contributed to more than a dozen crashes by late afternoon in Glynn County.
Georgia Department of Transportation crews were busy throughout the day, salting roads where heavy ice patches built up, including the F.J. Torras Causeway, the Sidney Lanier Bridge and bridges and overpasses along Interstate 95.
"There was so much ice on the bridges, if you stood there you would start to slide like you were on an ice rink," Glynn County Fire Department Operations Chief Scott Cook said after responding to several crashes along the interstate.
Grayson's icy tentacles reached here just as a more familiar rainy weather pattern arrived from the Florida coast, creating the conditions for a perfect winter storm, South Georgia style. The anticipated snow storm expected to accompany these conditions never materialized — except for brief flurries in Sterling and farther west — but it did create an even rarer meteorological condition for these parts. Freezing rain (not sleet) is so-named because it drops in liquid form and then freezes upon contact, particularly on tree limbs, power lines and roadways.
Temperatures were in the mid to low 20s as rain began to fall at dawn on Jan. 3. Accumulating ice quickly coated tree limbs, which drooped under the weight to just few feet off of roadways in many places. Elsewhere, whole trees simply snapped and cracked under the weight.
So too for power lines throughout the region. About 21,000 customers lost power in the tri-county area, and some 7,000 to 8,000 remained without power through a bitter cold night as temperatures again dipped into the 20s before dawn Jan. 4. By late afternoon on Jan. 4, some 4,400 customers remained without power, including 1,600 alone on St. Simons Island.
Roadways were an icy, slushy mess on Jan 3. Glynn County Police escorted folks across the F.J. Torras Causeway in convoys, to control the speed and help avoid icy spots on the road.
The DOT completely closed the Sidney Lanier Bridge late on the afternoon of Jan. 4 as warming temperatures resulted in huge chunks of ice falling to the pavement from the structure's towering cable-stays.
The ice storm hit as folks in the Golden Isles were still smarting from the effects of Hurricane Irma in September of 2017, when the area was waylaid by powerful winds and massive flooding from a combination of record-setting storm surge and a relentless deluge. Irma had followed Hurricane Matthew, which brought much of the same and millions of dollars in damage to the area in October of 2016, a year that also saw Glynn County hit by tropical storms Hermine and Julia.
We were spared a named storm of the tropical variety in 2018, however. Sadly, our neighbors to the north and south were not near so fortunate; Hurricane Florence's heavy rains and high storm surge brought massive flooding to North Carolina in September of 2018, after which Hurricane Michael devastated the Florida panhandle with 155 mph winds, storm surge and heavy rains in October.
But this time last year, snow birds like Ron Addessi were beginning to wonder why they bothered leaving the cold winters up north behind for more of the same down here.
"I've been coming down here in the winter for 10 years and this is the nastiest I've seen it by far," the seasonal St. Simons Island resident from Erie, Penn., said last year, standing on the icy streets of the Pier Village.
For the record, the local forecast for the first day of 2019 in the Golden Isles calls for a balmy daytime high around 73 degrees under partly sunny skies, followed by an overnight low around 59, according to the National Weather Service in Jacksonville.