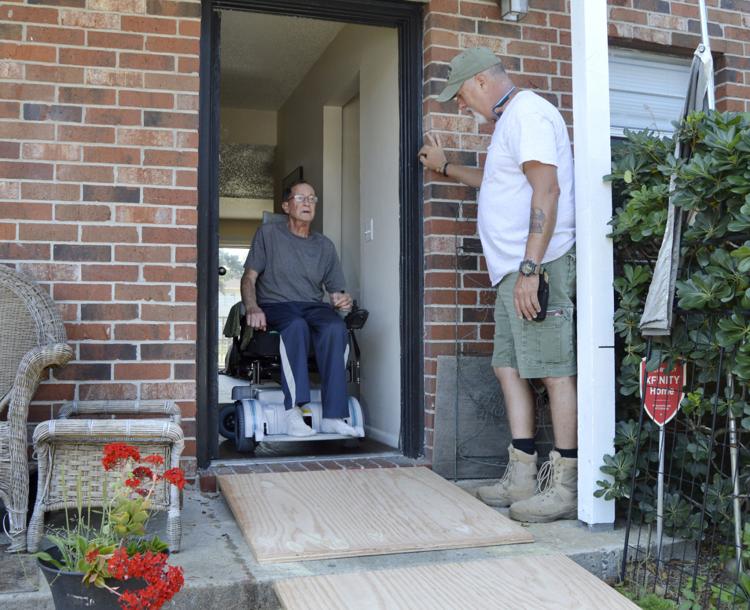 Ross Allen tried to explain to a visitor the predicament that left him virtually confined to his apartment off Altama Avenue, but his words were suddenly drowned out by the whining grind of a power drill.
Then the noise stopped. Allen started to speak again.
"I couldn't go outside for over ... " and that was all he could manage before the drilling resumed.
What the Vietnam War veteran was trying to say was that he had been stuck inside for months, unable to get his wheelchair over the 4-inch stoop at the front door of his apartment at LIVE Golden Isles Apartments, 5700 Altama Ave. But the noise was done for good after that, and so was Allen's immediate problem.
"C'mon out," called Joe Perry from the front door, the power drill still hot in his hand.
Allen maneuvered his motorized wheelchair smoothly down the new ramp that led out of his apartment and onto the sidewalk outside. With the noontime sun shining down on him, Allen wheeled his chair around, looked up at Perry and smiled.
"How's that?" asked Perry, himself an army veteran of Desert Storm.
"Oh, yeah," Allen said. "This is great. I'm mobile again. Thank you."
Perry is a carpenter by trade, but he built this new handicap ramp for Allen on his own time — a gesture of goodwill from one warrior to another. In fact, much of Perry's free time is spent reaching out to veterans in need through the local nonprofit, Warriors22. The group is comprised of six local residents who raise money through fundraisers and donations to provide immediate and tangible assistance to veterans and active-duty military folks in need.
Sometimes it is as simple as rolling up their sleeves and taking matters into their own hands for veterans like Allen.
"This is what our group does," said Perry, who served in the Middle East during Operation Desert Storm, from 1990-91. "We just got a call to help another veteran today. We will be getting in touch with him. Word is getting out about (Warriors22). People just contact us and say, "Hey, I know someone, a veteran who needs help.'"
And that is pretty much how Perry met Allen. Navy veteran, local woodworker and all around doo-gooder Bryan LeGwin and his wife Joan reached out to Warriors22 a few weeks ago about Allen. A navy veteran who served in Vietnam, Allen has been confined to a wheelchair for six months — the result of what he described as two failed back surgeries.
Allen's motorized wheelchair (provided through his VA benefits) could not maneuver the drop from the front door to the stoop, much less the bigger drop from the stoop to the sidewalk. His efforts to get the apartment's officials to assist were fruitless, Allen said. The apartment's property manager was out of town this week and could not be reached for comment, a woman there told The News.
Except when someone could come and bounce him over the humps in a manual wheelchair for doctor's appointments and other emergencies, Allen had been stuck inside his apartment. Also, the bedroom is upstairs, so he has been sleeping on a bed set up in the living room.
Bryan LeGwin built Allen a temporary ramp a couple of weeks ago, for which Allen has been most grateful. "I hadn't really felt the sunshine in over five months before that," said Allen, 68.
But that ramp was constructed of untreated wood, which will not long withstand the South Georgia elements. "It was not pressure treated, but it was a good temporary fix," Perry said.
On Wednesday, Perry arrived with a sturdier ramp, constructed of marine grade plywood and treated wood framing. Perry and his two sons, Matthew and Wesley, removed the temporary ramp and installed the newer, sturdier ramp. Then they drilled it in place onto the concrete stoop.
"I couldn't get out of my home," said Allen, a Glynn County resident since 1995. "Now I can go across the street to Publix to shop, get my hair cut, just get around."
For more than three years now, the Warriors22 group has been dedicated to making a difference in the lives local veterans, from building handicap ramps to housing the homeless to finding help for veterans struggling with PTSD. The group also networks with the VA, as well as other nonprofit veterans groups, Perry said. The numeral 22 in their name represents a recent estimate of veterans who commit suicide daily across the country, according to VA statistics.
The other Warriors22 members are: Patrick Nesbitt and wife, Karen; Lora and Ray Schwarting; and Tina Yawn.
Last Saturday, Warriors22 held a benefit poker run motorcycle ride and a car, bike and truck show at the Glynn Place Mall. The $2,800 the group raised went to the family of local resident John Myers, a veteran of two Middle East combat tours who faces mounting bills due to medical problems. Warriors22 reached out to local homeless veterans in December by handing out backpacks, each stuffed with a blanket, a hygiene kit, a rain poncho and several pair of thermal socks.
Last summer the guys made a road trip to the Army Reserve Center in Tifton, where they took furniture and other supplies to an fill the empty apartment of a recently-transferred active-duty soldier. The effort made Warriors22 grateful for community support.
They had put a call out on their Facebook page seeking donations for the young man on a Friday. "On that Sunday, we we were able to deliver him a full house, everything he needed," Perry said.
New members and supporters are welcome at Warriors22, he said. Members do not have to be veterans to join. For more information, go to warriors22.org, or call Perry at 912-324-9014, or Patrick Nesbitt at 912-258-1404.
"We try to help out any where we can," Perry said. "It's great how people support us. And we would definitely welcome more support, especially more hands on support. Right now, we're raising money to put a new roof on a veteran's home. It's badly needed and we'll need help with that."