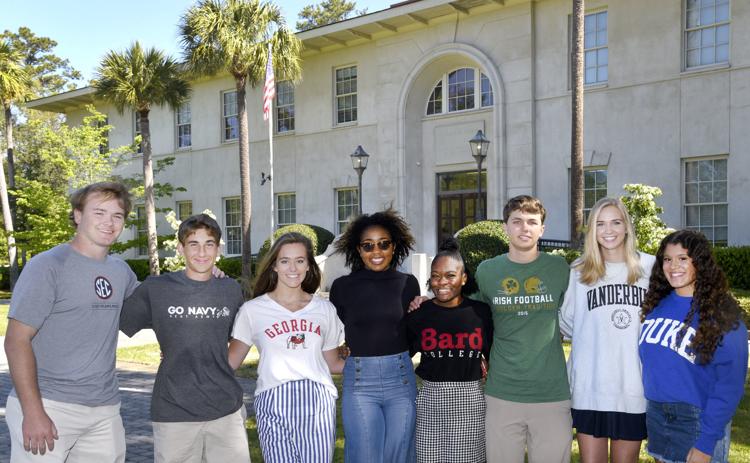 As the clock ticks down to college application deadlines, many high school seniors are begging for more hours in the day.
They're writing essays and taking standardized tests, staying involved in the extracurricular activities and volunteer opportunities needed to make a college application competitive, all the while going to class and maintaing their GPAs.
For some, though, it's a goal they've worked toward since freshman year.
"You can't sit down one afternoon and say 'OK, let's do all of this,'" said Sara Seckinger, a senior at Frederica Academy who plans to attend Vanderbilt in the fall.
Seckinger is among thousands of local seniors who recently completed or will soon wrap up the college application process. Like many, she was encouraged to begin preparing her freshman year.
"It's a process, so it's not just all of a sudden junior year meeting with your counselor and saying 'This is what I want to major in, these are the schools I want to go to,'" said Laura Nevins, a counselor at Frederica Academy. "You really do need to start thinking of that ahead of time."
Nevins serves as the school and college counselor at the school. She begins building a relationship with students as early as possible. She first meets with most Frederica students during eighth grade and then begins to have individual meetings with students during their freshman year.
Students at Frederica Academy use a web-based college counseling program that allows them to explore colleges, keep track of their résumés, record test scores and research career interests and corresponding majors at different schools.
By junior year, the process kicks into high gear as students begin to do more college tours, prepare for and take standardized tests and make final decisions about which schools they wish to apply to. Senior year, they're applying.
The intensity of the college application counseling process at Frederica Academy is a reflection of how involved the application itself is today, Nevins said.
"Maybe 15, 20 years ago, all you needed to do was submit an application to some schools to be admitted," she said. "Now, there's so many more elements that go into the application process itself, which is why we start introducing these components in ninth grade."
Colleges today look for more than an academically-successful student, Nevins said. The college staff reviewing applications also need to see that a student can be an asset to the college's campus.
"They want to see what a student's engaged in their high school and in their community because that's a reflection on what their interests may be," she said.
Many colleges in their application process expect to see students stand out in a crowd of stand-outs.
Students need to have found time not only to take the most rigorous courses offered by their high school, but also to have been members of clubs, played sports, volunteered and more.
They also have to find time to do well on the SAT or ACT and thoughtfully complete the applications and corresponding entrance essays.
"A lot of it is, in a way, trying to make yourself stand out to someone who may not have had his cup of coffee in the morning," said Ryan McHugh, a Frederica Academy senior who plans to attend Notre Dame in the fall. "… You have to write something or have something in your application that makes that person think, 'That's someone I want to have in my school.'"
The applications, and particularly the essays, require students to clearly communicate how they stand out among their peers, said Armani Johnson, a Frederica Academy senior who plans to either attend the University of North Carolina or the University of Georgia.
"You have to put your whole personality into that essay so the college will accept you," she said.
Before the essay, though, years of hard work and thoughtful preparation are involved. Students face great pressures throughout the process, said Kate Worthley, a Frederica Academy senior who plans to attend UGA.
"Colleges, they expect you to have the fantastic ACT scores and SAT scores, plus they expect you to have every single club that you've been in since freshman year or before that, with a continuation throughout your high school years to show that you've been involved and committed," she said. "And then they expect sports, they expect the fantastic grades, the extremely rigorous classes. They're expecting a lot from you."