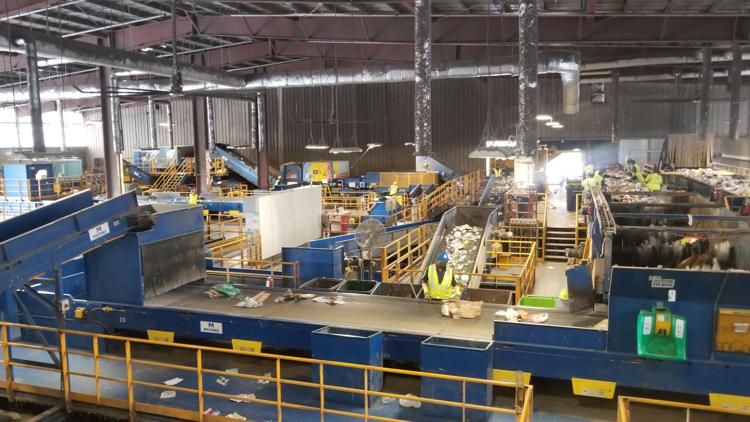 Recycling bins are everywhere — not only at residences, but workplaces. Large paper recycling bins in offices, and plastic trash cans in break rooms that are individually dedicated to plastic bottles and aluminum cans. The ubiquitous backyard incinerators and burn-barrels of the 1950s gave way to at least a cursory attempt to reduce waste, energy consumption and pollution in the last 30 years.
And dealing with that waste is no small endeavor.
Republic Services — which handles a large amount of Glynn County's refuse — opened a major regional recovery facility in Jacksonville in May 2012. The operation, which is called a materials recovery facility, or MRF, was built at a cost of $16 million and handles paper, plastics, metals and glass from Coastal Georgia and northeast Florida.
A truck picks up your recyclables from outside your door, and once it gets to Jacksonville, they get dumped on the appropriately named "tipping floor." Sprayers hang from the ceiling, sending a mist over the garbage to keep down dust.
Workers presort the garbage after it hits the tipping floor, removing about 20 percent of everything people try to recycle. That includes vehicle batteries, rubber hoses, compressed air and liquid containers, and even metal cookery, among other items. The other 80 percent goes down the line along conveyor belts, outfitted with well-tuned apparatuses along the way that sort different materials into proper collection areas.
These machines include optical sorters for plastics, magnetic fields for metals and sizing screens. Once in their appropriate bins, they are baled and sent to more than 100 mills and manufacturers that further process the material back into a usable product.
Jason Graves, the Jacksonville MRF division manager, said old facilities relied on sizing and sorting screens that could mean expensive re-runs of materials through the system. However, the technology in the Jacksonville MRF dramatically changes the calculus, meaning 95-98 percent of recoverable material sent through gets caught the first time.
The optical scanner, for instance, makes this possible through quick assessment of plastics passing underneath it on a conveyor belt.
"Imagine it this way — basically what it does, to the best of my engineering knowledge, is it sort of reads the density of the color," Graves said. "It's got, basically, a light sensor, and then it uses air to shoot it up or shoot it down."
He later added, "If you look at soda bottles, there's always a little transparency. Then you got your milk jugs and detergent bottles — that's your (high-density polyethylene plastic type No. 2). The optical sorters, they can be set to be even more specific, but the focus is going to be on separating your ones on the transparency of those, and then it will go through another optical sorter, making it separate the colored bottles from the milk jugs."
The sorter continues in that fashion.
A similar, but different, process governs aluminum cans and other similar small metal containers. An electrified ceramic roller pops the cans into the air and onto one part of the continued processing, while other materials drop down and continue their journey.
"I've seen videos — there's a future where robotics are the next thing. Imagine little arms that spin around and grab this bottle and put it here — grab this and put it here," Graves said, motioning with his arms. "Optical scanners were, like, the first thing, and it's just going to keep growing from there."
During an interview and tour of the facility with The News during the first week of October, the MRF was still catching up to the recyclables not collected and those generated during Hurricane Irma. Graves said usually the facility goes through 325 tons of garbage a day, and took in about 2,300 tons through the first nine months 2017.
Tiffany Williams, an administrative assistant for the MRF, said around 30 people — including maintenance staff — work during each shift, and at any one time there are around 70 people on staff at the facility.
"Keep in mind, this is built from the ground-up, so we hired off the street, (and) we brought in 70 (new) jobs, automatic, just from being here," Williams said. "And then you have the different things that we've opened up to, (like) different hauling companies now have an outlet, and transportation companies because we're selling the material and our customers now have a need for transportation."
Republic sells bales that weigh 1,600-1,700 pounds to vendors and brokers who further clean and breakdown the materials into parts that can then be used to create new containers and products. For instance, Williams said the MRF sells to Anheuser-Busch and Coca-Cola, who recreate cans themselves, and Mohawk — the carpet company — which both creates carpets out of plastics and breaks down plastics for further resale to other companies.
As for what they do in Jacksonville, Graves said, "It's beneficial, and it's worth it."
However, any effort this expansive — considering all the other companies involved nationwide — has its critics. In 2004, recycling in general drew none other than the comedy duo Penn & Teller, who used an episode of their Showtime series, "BS!," to debunk the idea recycling is a good unto itself.
Penn Jillette said most people recycle because it feels good and saves energy, but then addressed the second reason.
"Does it save energy? No, because it increases energy use in transport, sorting, storing and cleaning — all of those things needed to get it back to a useful state," Jillette said. "It takes more energy to recycle a plastic bottle than to make a new one, and that's not so good."
The recycling debate encompasses a number of topics, but energy use remains foremost. Republic contends making a bottle from recycled content takes 88 percent less energy than making one from raw materials, though that does not take into account the energy used to collect the materials, process them, and send them to a second facility for further processing or development into a new product.
Republic also maintains recycled paper products use 50 percent less water and creates 74 percent less pollution than those from native materials, and that recycling one aluminum can saves the same energy as it takes to run a 100-watt lightbulb for 20 hours.
John Tierney, a writer for the New York Times and a well-known recycling critic, explained in a 2015 column that even the greenhouse-gas benefits of the process are overblown.
"According to the (Environmental Protection Agency)'s estimates, virtually all the greenhouse benefits — more than 90 percent — come from just a few materials: paper, cardboard and metals like the aluminum in soda cans," Tierney wrote. "That's because recycling one ton of metal or paper saves about three tons of carbon dioxide, a much bigger payoff than the other materials analyzed by the EPA.
"Recycling one ton of plastic saves only slightly more than one ton of carbon dioxide. A ton of food saves a little less than a ton. For glass, you have to recycle three tons in order to get about one ton of greenhouse benefits. Worst of all is yard waste: It takes 20 tons of it to save a single ton of carbon dioxide."
He added that once you exclude paper and metals, everything else combines to "only two-tenths of 1 percent of America's carbon footprint."
Still, the argument goes on — the EPA stated in a 2015 report the recycling rate increased from 10 percent to 34 percent of America's refuse from 1980 to 2012, solid waste generation per person per day peaked in 2000, the 2012 rate of 4.38 pounds of waste was the lowest since the 1980s and landfill waste disposal went from 89 percent of all municipal solid waste in 1980 to 54 percent in 2012.
Basically, people are generating less trash per person, though the number of people keeps increasing, and we're putting dramatically less of it into the ground.
Even as Jillette said as he opened his episode, he and Raymond Teller, "still kind of, sort of believe" the recycling conventional wisdom.